Composting is having a big moment on campus, one that we hope will turn into a lifetime of positive environmental change for CU Boulder affiliates. With the addition of compost bins across campus, compostable materials can now be properly sorted and diverted from landfills, providing an outstanding opportunity for campus associates to contribute significantly to our campus waste diversion goal.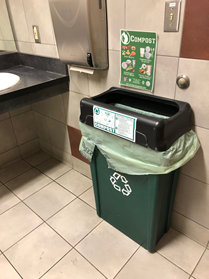 Over the last few months, and following years of work, Facilities Management and Campus Building Services teams, in conjunction with the Environmental Center, have finished installing compost collection bins in nearly all campus restrooms in academic and administrative buildings. (If you are aware of a restroom we missed, please contact us!) This installation means every student, faculty and staff member can simply deposit compostable materials in the nearest restroom.
Results from a 2017 survey on campus sustainability showed that over 90 percent of students, faculty and staff wish to practice sustainable behaviors. If you're new to the world of composting, you may not know which materials are suitable for compost. Composting is as easy as knowing what to compost and what not to compost. You can also follow this basic rule: if it was once alive in your lifetime, it's compostable. Check out this helpful one-minute video created by the City of Longmont.
Keeping compost out of the landfill has significant benefits: It enables the creation of fertile soil that promotes the growth of carbon-guzzling plant life, and it decreases the need for additional agricultural fertilization. The decomposition of compostable material in the anaerobic conditions of the landfill creates methane, a greenhouse gas that is more than 25 times as potent as carbon dioxide. Proper sorting of compost into the appropriate bins is a win for agriculture and a win for greenhouse gas reduction.
It is estimated that nationwide, over 30% of the overall food supply is wasted. That sobering statistic aligns with past waste audits at CU that found compostable material comprises up to 30% of the "trash" put into CU dumpsters headed for the landfill. Empowered with the knowledge that we can easily divert compostable material from the landfill (and brand new compost bins all over campus!), we hope you will do your part to help us achieve our sustainability goals and contribute to a greener future.