I'm a 1st year PhD student in Environmental Engineering and my research topic is maximizing energy recovery from water-energy systems through reuse of industrial byproducts.
I grew up in small-town Modesto, CA located in the central valley of California, with a mix of agricultural industry and an influence of the Bay Area tech bubble. Motivated by California's growing water issues, I attended CU Boulder as an undergrad in 2011 as an Environmental Studies student. A year later, I transferred to Environmental Engineering because I was inspired by the creative process of engineering to tackle grand challenges. I found CU's EVEN program to be excellent, mainly due to its challenging and inspiring faculty, and continued at CU as a MS student with a focus in Engineering for Developing Communities (EDC).
CU Boulder has an increasingly growing EVEN program and I am excited to be part of that as a graduate student. What I have enjoyed most about the graduate program is that I feel it is a safe space for me to learn and to grow. My trials, challenges, and curious questions, in and out of the lab, are met with compassion and genuine support from CU's professors and faculty – it is what has inspired me as an undergrad and what continues to inspire and shape me as a graduate student. I am really excited about this research project I am currently working on with my advisor, Mark Hernandez.
There are so many areas to explore, from the fundamental science to different areas of application. I am excited to watch this research project grow and produce some really interesting data and results and contribute some good work to the water-energy field. Currently I am involved in AAUW, American Association for University Women, who supported my first year of graduate study. I think it's important to empower women to pursue higher education, particularly in STEM fields.
Last year at the AAUW annual meeting, I gave a talk to a group of women on my career "journey." I came into college with no intention to be in engineering! I struggled a lot with the core courses the first years and constantly questioned my place as an engineer. With a lot of perseverance, long distance conversations with my family, and inspiring lectures, I felt I finally found my place at the intersection of water-energy systems. At this point of my career, I was hooked! And I applied myself in many different facets with internships at NREL, Carollo Engineers, and most recently, an internship in India.
Overall, I found the AAUW talk to be an extremely inspiring conversation and found a lot of women experienced something similar. I hope to have more of these conversations as a PhD student with involvement in AAUW and SWE (Society of Women Engineers). My favorite part about living in Boulder is the summer. It is filled with so much more activity and for me there are more outdoor activities to do than in the winter. I enjoy doing yoga and playing outdoor sand volleyball. Fun fact: At 18, I studied for a year at (FIDM SF) Fashion Institution of Design and Merchandising in San Francisco.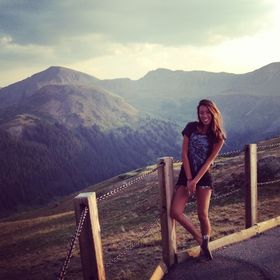 You just won the prestigious AWWA Woodard & Curran Scholarship, established to encourage and support female students in pursuit of graduate training in the field of water and wastewater treatment. What do you think made you stand out from other potential candidates?
Thank you! I think what most made be stand out is my research proposal. I think we have a really unique research topic that has the potential to contribute interesting work to the field of water-energy systems. Additionally, my commitment to empower more women to pursue higher education, particularly in environmental engineering fields.
You have expressed a strong interest in bioenergy and bioresource recovery in water and wastewater treatment systems. How did this passion arise, and what potential is there within that field of study for sustainable solutions to our current energy and water problems?
This passion started as an undergrad when I was taking a combination of Fundamentals of Environmental Engineers with Chris Corwin, Sustainability for Engineers with Sherri Cook, and Microbiology with Jason Ren where I learned and really connected three things: 1) how undervalued the resources are within wastewater is leading to the paradigm shift from wastewater treatment plants (WWTPs) to resource recovery facilities (RRFs), 2) the growing need for research and innovation in water-energy systems, and 3) of course, how incredibly awesome microbes are in these processes. Learning these concepts motivated me to pursue research and graduate study because I think there is huge potential to tackle some of our current water and energy problems, that includes: maximizing anaerobic digestion systems, finding low cost biogas scrubbing technologies, and utilizing the water and wastewater treatment processes to contribute to a more sustainable bioenergy economy.
You are also an engineering for developing communities (EDC) student. How is being an EDC student influencing you, and how can bioenergy and bioresource recovery be applied in the context of developing communities?
Being an EDC student has greatly inspired my work and my career path today. My experience in India this past summer with Sanitation and Health Rights in India (SHRI) shined a light on far we really are from the targeted SDGs (sustainable development goals). In rural Bihar, one of the poorest states in India, only 30% of households have access to toilets and 80% have almost no access to electricity. I think there is huge potential for bioenergy and bioresource recovery technologies to be applied in development communities because we have the potential to help achieve multiple sustainable development goals (SDGs) simultaneously through the recovery of beneficial resources such as energy and fertilizer and providing sanitation facilities where the wastewater is properly treated, and solids are properly handled.
As a Puksta Scholar and Community Service Committee Leader for the Society of Environmental Engineers, what can you tell other scholars and engineers about why and how they should become active in their local communities to enact positive change?
I recently read an article, The Grandest Challenge of All: The Role of Environmental Engineering to Achieve Sustainability in the World's Developing Regions (Mihelcic et al. 2015), that said "the skills and expertise that reside within the environmental engineering community are fundamental to achieve a much broader range of SDGs, including those related to health, water, energy, and food society, economy developing, and reduction of poverty and social inequalities." I think it is in our nature within the field of environmental engineering to contribute good to society, however, community engagement is an essential part of that in order to design to the needs according to the community. That is why I think it is important to be active in your local communities into order to gain these skillsets that are not necessary taught in a classroom. Joining EWB, EDC, and other civic engagement groups are great ways for student to be active in their local communities and learn these social skillsets.
You have several years of internship experience under your belt. How have internships been important to your professional development?
I think my internship experiences were extremely important to shape my career path today. For me, internship provided a chance for me to see environmental engineering from different perspectives and industries, simply to learn, see what I liked and did not like, and explore where I fit in, while gaining valuable learning experiences and networking connections.