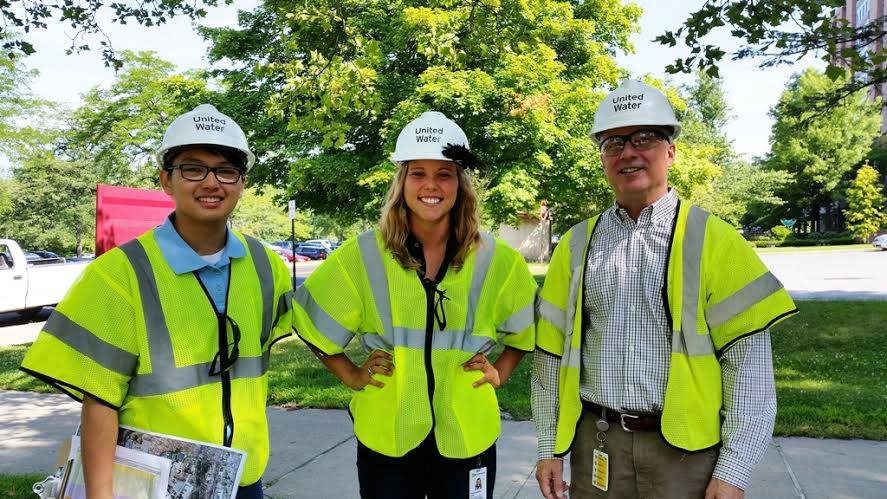 Name: Haley Goddard
Year of graduation:  May 2016
Option Track: Water Resources and Treatment; Engineering for Developing Communities
Current Job/Company:  Process Engineer/EIT at Carollo Engineers
What do you do at Carollo?
Most of my projects are slated in the Private Sector Group for Carollo. This work is related to mining, oil and gas, power, industrial (like manufacturing), and Native American communities. The problems are really unique- it is a really exciting group to be a part of! Right now as I eventually work towards my engineering license, I assist with various administrative, writing, design, business development, and project management tasks for different engineers that I work with. The goal is to get exposed to as much as I can!
Fun fact about you: I played the saxophone for 8 years, including 2 years in the CU marching band. I hope to pick it up again someday soon!
How did your time at CU (and specifically in EVEN) set you apart? How has it helped you to succeed? The curriculum in the EVEN program has been so valuable. As an undergraduate, I was able to focus a good portion of my classes to go more in depth regarding topics related to water and wastewater (like microbiology, water chemistry, hydraulics, organic chemistry, hydrology, etc.). A lot of undergraduate students pursuing careers in this industry do not get that same exposure elsewhere. I also love getting to see and apply the concept of triple bottom line sustainability (i.e. social, economic, and environmental sustainability). That was a significant part of EDC courses and the capstone design projects. This view of sustainability is so important to me and fuels my passion for environmental engineering.  It is a significant concept for all projects, but I am particularly excited to use it in work with Native American communities though Carollo and in work with a non-profit mission group in Haiti that I am particularly passionate about.
How quickly did you find a job after graduation? Do you have any advice you would like to share on the job search for seniors?
To be completely real and honest, finding a job was a hard, draining process. It took me about 6 months from my first interview with Carollo to finally secure an offer (ended up being about 5 months after graduation) – and that can be common with any employer. I got pretty discouraged at some points; I was not getting responses from anyone. However, I kept pursuing my contacts and searching for any possible opportunity to network. Completing numerous online applications is unavoidable – and you never know what luck may come your way with those! In the end, though, I am convinced that it boils down to the connections you make. My Carollo contact (in California) came from my United Water internship contact (in New York) who was an alumni connection to my dad (we met at a crew event in Boston) -- go figure. That's an excessive example but seriously –  just TALK to people. Be humble, but confident. Ask questions and let your potential shine. Be patient with the process, and don't ever quit! You'll find your place.
What was one thing that set you apart?
My internship in New York for United Water (now Suez), my volunteer experience for 3 weeks in Fiji, and my senior design project (we competed through RMWEA and went to WEFTEC – that was HUGE!). These all made awesome conversation topics during interviews.
Can you give networking tips to current students? Just do it. But really, GO to events. I always felt intimidated and unqualified – it held me back from taking advantage of many opportunities. Don't let that be the case! You are a college student LOOKING for your FIRST experiences – employers understand that. You will shine the most if you are animated and engaged in your conversations – ask questions and show genuine interest in learning.
How has your involvement at CU Boulder as a mentor, research assistant, in SEVEN, etc. impacted your career so far?
My experiences with SEVEN (and particularly its connection with RMSAWWA/RMWEA) have led to great connections and conversations. It helped me almost immediately transition and connect with AZ Water (the Rocky Mountain section equivalent in Arizona) when I moved to Phoenix. I am involved with the Young Professionals committee, where I am using my SEVEN and mentor experience to help start an AZ Water student chapter (similar to SEVEN) at ASU! I am also helping form a YP community at Carollo. Given that I am in the middle of a big transition, being new to the industry and my career, these opportunities are a great way to let me "find my groove", pursing areas where I am more familiar and confident. I am getting to build connections and gain experiences that will be very valuable to my career as it unfolds.
What was the most useful class you took while in the EVEN program? 
Senior Design. Chris Corwin did the BEST job simulating a consulting firm environment; and it is a whole new level of learning when you have to recognize and develop your own solutions in real life applications. All the presentations and reports for the class were immensely beneficial to my professional development, as well.
If you could give an advice to your freshman self, what would that advice be?
FIND ENVIRONMENTAL ENGINEERING SOONER! (I didn't switch until halfway through my sophomore year). Actually, though, it would be to get internship experience sooner. It is so valuable and motivating to understand different opportunities in various industries and to see coursework in real applications. Also, you make great connections and are usually exposed to some level of mentorship.
Do you wish to share your contact info for students or graduates looking to network?
Yes, definitely! hgoddard@carollo.com would be the best email since I see it every day!
March 15th, 2017