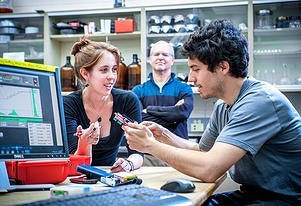 An independent study is a collaboration between a student and a faculty member on a special project that provides the student with a learning experience. An independent study may also fill an academic need of importance to the student that cannot be filled by regular course offerings. Independent studies are opportunities to earn credit for learning outside the normal lecture and laboratory class structure.
In the EVEN BS curriculum, independent studies may be counted as technical electives (up to a maximum of six credit hours) or free elective. Independent studies may be conducted in any increment of credit hours up to a maximum of 3 credit hours per semester, with one credit hour representing 25 hours of actual work on the task or project. We encourage students considering an independent study to engage in a long-term research project with a faculty member.
The following rules apply to independent studies:
A maximum of 6 credit hours of independent study may be applied to EVEN BS degree requirements as technical electives.
Independent studies may not be applied as required courses or option courses.
A maximum of 3 credit hours of independent study may be taken per semester.
Independent studies may be supervised by any appropriate University of Colorado faculty member.
A proposal for an independent study must be made by submitting the Independent Study Agreement Form, complete with student and supervising faculty signatures.
The EVEN Program Director must approve the proposal.
A final product of the independent study must be submitted to the Environmental Engineering Program before credit is awarded toward degree requirements.
Approval of a second independent study is contingent on successful completion of the requirements for the first independent study.
Independent studies may not be arranged retroactively.
Independent study credit is not allowed for internship experiences, co-ops, work-study, or work done for pay, following University rules.
Independent Study Procedures 
To propose an independent study, you must first determine with a collaborating faculty member the topic, goals, number of credit hours, work plan, and required product for the independent study. This information must be recorded on an Independent Study Agreement Form and submitted before the drop/add deadline of the semester in which the independent study will be conducted.
The independent study proposal will be reviewed by the EVEN Director and approved, returned for amendment, or disapproved owing to some deficiency in the proposal. The form must then be submitted to the Program Coordinator.
For an EVEN independent study, the Program Coordinator will enroll you. You will conduct the independent study under the guidance of the faculty advisor. At the end of the independent study, you must submit to the Environmental Engineering Program a copy of the final product (a report, a computer code, etc.) in addition to any products due to the collaborating faculty.
Senior Thesis
In your final year you may choose to do a senior thesis, which is conducted over two terms and demonstrates that you can complete scientific and engineering research independently and can communicate results.  A senior thesis must be supervised and graded by a member of the Environmental Engineering faculty and defended before a committee of three faculty members, two of whom must be affiliated with the Environmental Engineering Program. Senior thesis hours (3 credits each term) may be applied toward the technical elective requirement.
You are required to complete (in collaboration with the thesis supervisor) and sign a Senior Thesis Proposal form for each semester; the form must then be signed you and your thesis supervisor and approved by the EVEN Program Director before registration in the courses. The final thesis must be submitted to the Environmental Engineering Program Coordinator by the final day of the second term of the thesis.
Engineering Co-op Program
A Co-operative Education Program is available to EVEN students, whereby semesters of academic coursework alternate with semesters of paid engineering work at an engineering firm or university.  International co-ops are also available. The co-op program provides professional experience in a real-world situation with university oversight and a chance to explore career options during your undergraduate career. You enroll in co-op credit hours through the Division of Continuing Education; these credits do not apply toward degree requirements except as free electives.  For more information, see the College of Engineering Website.