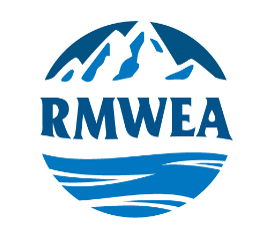 A team of five senior students won the Rocky Mountain Water Environment Association (RMWEA) competition. Congratulations Jack Costello, Caleigh Jensen, Spencer Lovell, Leah Rivera, and Lucas Wagoner!
The competition allows for colleges and universities in the Rocky Mountain region who have formed Water Environment Federation (WEF)/American Water Works Association (AWWA) student chapters to participate in the Annual RMWEA Student Design Competition. Each team of students is tasked with designing and presenting a report meeting the requirements of an authentic wastewater treatment problem statement from around the Rocky Mountain region.
The University of Colorado Boulder team tackled the challenge of water reclamation facility upgrades for Parker Water & Sanitation District (PWSD). PWSD was formed in 1962 and is a special utility district, providing water and wastewater services to the growing community of Parker, Colorado. 
PWSD operates two water reclamation facilities, the North Water Reclamation Facility (NWRF), in operation since 2004, and the South Water Reclamation Facility (SWRF), in operation since 1988. The NWRF is currently undergoing an expansion to increase the current NWRF permitted capacity of 2.0 MGD to 4.0 MGD, and will meet projected service area wastewater flows until 2025.
The purpose of the project was to evaluate the continued operation of the SWRF in conjunction with the ongoing and/or planned expansions of the NWRF. The project requirements included:
Evaluating site constraints, existing infrastructure, and current plans for primary, secondary, and tertiary treatment at the SWRF
Evaluating various process technologies to achieve flow, load, and permit requirements at the SWRF.
Completing process modeling for optimizing the recommended process alternative.
Recommending a design that included site layouts, cost estimates, process flow diagrams, assessment of risk, and evaluation of triple-bottom-line aspects as relevant to the project.
Evaluating the impacts on performance reliability to meet the regulatory goals.
The team will receive a free all expenses paid trip to Chicago to compete in the Water Environment Federation Annual Technical Exhibition and Conference (WEFTEC) national competition in October. 
Congratulations to the design team on this well-earned honor and best of luck at the WEFTEC national competition!