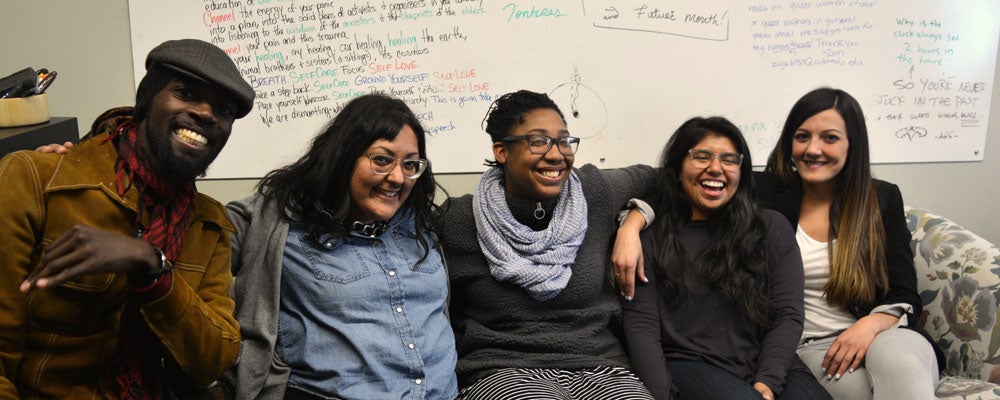 We warmly invite you to apply for the Doctoral Mentorship Pathway Program for 2023-24
This program is designed to create a pathway for historically underrepresented and marginalized education scholars and practitioners who are considering doctoral studies in Fall 2024. We hope to use this program to make the sometimes mystifying process of applying to a PhD program more visible, to provide an opportunity for you to get to know our students and faculty, and participate in sessions where we'll talk about how to apply and what the realities are for students of color studying in a predominantly white research institution. Some highlights of this mentorship pathway include:
A faculty mentor to work with throughout the doctoral application and selection process
A current student mentor 
A waived $60 application fee for Fall 2024 applications
Online seminars and information sessions throughout the academic year related to applying to graduate school, navigating life and scholarship at a primarily white institution (PWI), preparing for finalist weekends and interviews, and how to select the right advisor and program
Support with application preparation, including advice regarding statements of purpose and letters of reference.
Community-building with other selected scholars and current graduate students
To apply for this program, please fill out the application form by Aug. 4, 2023.
The application includes a few short answer questions. Please note that these are not meant to be a statement of purpose, but are rather used for us to understand more about you. We don't expect this to be a perfectly crafted admissions essay.
We'll also ask for a few pieces of information such as your undergraduate and, if applicable, graduate grade point average and your GRE scores if you have taken the exam. GRE scores are optional.
The application deadline is Aug. 4.
We expect to notify applicants who are selected to attend in early September.
As a part of this program, we are going to talk about finding a faculty match. While we don't expect students to have that figured out just yet, getting to know our faculty and their areas of expertise will be helpful for you as you have conversations with potential mentors. Over the course of the fall, we recommend that you spend some time getting to know our faculty. Here are some resources to help you do that!
This is a good way to begin to get a feel for which of our programs might be a good fit for what you're interested in. On each program page you can find a description of that program area, a list of faculty, and a link to the course catalog where you can see what classes our students in that program area take. This is a good place to start to begin to narrow your interest.
See a list of our faculty by program area
This is a great way to find a faculty member in a specific program. This is more useful if you already know which program are you're interested in. You can click on each faculty member's profile to see some highlights about their studies and to link to their CV.
Search for faculty by interest and expertise
This allows you to search for faculty members by your area of interest, by research center, by college/school, or keyword. This is a great way to find faculty in our program area who is doing work that interests you—even if you're not sure yet which program you want.
Learn about our financial support options
All of our doctoral students are awarded generous funding packages that cover five years of full-time study. The Miramontes Doctoral Scholars Program offers a dedicated, supportive community for doctoral students with research interests focused on educational equity and cultural diversity, and prospective students from underrepresented groups and those who are first-generation college graduates are encouraged to apply.
Questions? Contact Malerie Barnes.