College opportunities, not to mention graduate studies, were rare in the small Southern African country of Zimbabwe where Tafadzwa Tivaringe grew up. With unyielding support from his parents, his community, and mentors, Tivaringe, or "Taphy" as he is known, did his undergraduate and postgraduate training at the University of Cape Town in South Africa, and now Tivaringe is earning his PhD in Learning Sciences and Human Development from the CU Boulder School of Education.
Through rigorous research, I am committed to understanding how education policies and learning environments can be inclusive and democratic. That way, we can get closer to Mandela's vision of education's role in transforming society."
Even though a doctoral degree is often called a "terminal" degree, Dr. Tivaringe is just getting started, as he works to transform the educational system from the inside out. 
Much of Tivaringe's passion stems from his lived experiences. In his parents' colonial Zimbabwe, then Rhodesia, the education system of their youth was designed for them to complete high school and to be absorbed into the work force as "semi-skilled workers," but his parents and many others in the community strived for new educational futures for their children. 
"While my childhood friends and I took our parents' wishes to heart, the reality for many of us was that the pathway from high school to college was marred by barriers and potholes that made it incredibly difficult to access college education," he said. 
Tivaringe credits good fortune, amazing mentors, pathway programs — such as an undergraduate fellowship that allowed him to conduct research early in his postsecondary studies— and family and a community that unflinchingly believed in him to be able to access college and graduate education.
In 2014, Tivaringe was appointed a local researcher on the International Study of Youth Organizing, a project that led to a fateful collaboration with Ben Kirshner, CU Boulder learning sciences and human development professor and the study's co-director. Kirshner was committed to understanding the story of youth in Africa and he took an interest in Tivaringe's development as a person, both in ways that were refreshingly nuanced. 
"Our great working relationship culminated in him taking me under his wing to pursue a PhD in Education at CU Boulder," he said. "Beyond that relationship, I was drawn by the school's strong reputation in two of my core areas of interest, human development and ed policy."
Finding like-minded mentors, who care for their colleagues and students on a personal level made all the difference for Tivaringe. Graduate studies can be seen as an isolating and self-driven experience, but he found mentors make up one's team, and success is tied to how well that team works together. 
"I have learned that doing good scholarship and being a good person are two sides of the same coin," he said. "It's commonplace for people in the academy to focus on the academic project and lose the basic understanding that we are all just human beings who thrive if we center basic care for each other — what we call Ubuntu back in Southern Africa. 
"In my experiences with faculty and staff at CU Boulder, particularly in the School of Education, I've observed that people care about academic rigor as much as they care about being great human beings."
For Tivarange's mentors and peers, the feeling is mutual. He is well-liked and well-respected by professors and peers.
During his time at CU Boulder, he contributed to public scholarship in a multitude of ways, including skillful evaluation of CU Engage programs and his dedication to collaborative partnerships with the Research Hub for Youth Organizing. In 2019, Tivaringe received a prestigious invitation from the United Nations to attend the WIDER Development international conference due to his work in Cape Town and doctoral research. The faculty selected Tivaringe and his impressive three-article dissertation, "The Possibilities and Limits of Using Education as a Lever for Structural Transformation," for the 2021 Outstanding Graduate Award for Outstanding Dissertation.  
"I am most impressed by the rigorous and nuanced approach he takes to examining the social world and the role of education in it," wrote one faculty nominator. "Indeed it is remarkable that in the arc of Taphy's 3-article dissertation, some of which is already published in top-tier journals, he manages to offer a sobering yet powerful analysis of both the possibilities and limits of public education in efforts to improve social mobility for historically marginalized groups."
He sees his own story as representative of the potential for change among communities that, like his, remain underserved and marginalized by various systems.
"That potential demands that we create systems that ensure that graduands like me are not merely a function of a fortuitous alignment of key determinants of college success," he said. "We have to continue devising strategies that broaden access to education across all levels."
However, Tivaringe does not believe stories like his should be left up to chance, but rather, his work and passion center around change.  
As inspiration, he cites Nelson Mandela's famous quote, "education is the most powerful weapon which you can use to change the world," and he argues for the need to continue the legacy and work of transformative leaders like Mandela. 
"Unfortunately, many people across the world still do not have access to education and/or their experience of education is truncated by unwelcoming environments and/or pedagogies that are marginalizing," he said. 
"Through rigorous research, I am committed to understanding how education policies and learning environments can be inclusive and democratic. That way, we can get closer to Mandela's vision of education's role in transforming society."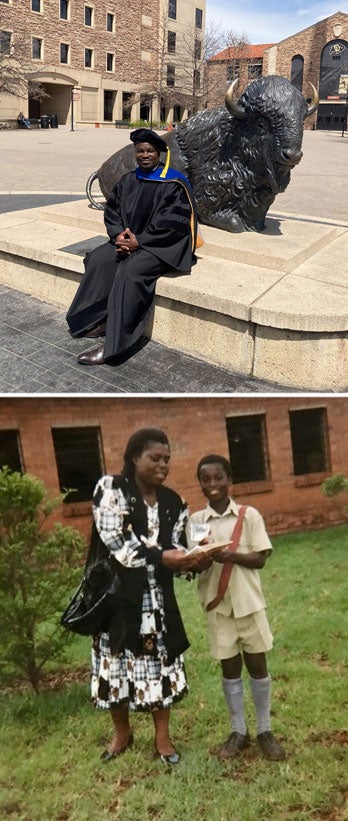 Taphy's special thanks
I would really like to thank my academic mentors, Ben Kirshner, Terrenda White, Susan Jurow, and Roudy Hildreth from the School of Education and Andrew Philips and Srinivas Parinandi from Political Science who invested so much in my development as a scholar."