Work in facilitated groups of your peers.
A faculty learning community, or FLC, is a group of faculty engaging in facilitated activities and discussion around teaching and learning – with the goal of producing a product (such as an assessment, teacher guide, or classroom innovation).  We will be facilitating two TRESTLE Scholar FLCs each year.  FLCs will be organized around a topic (such as creating pre-post tests, or teaching introductory courses).   See our poster about the Scholars program from the 2017 CSL STEM Symposium!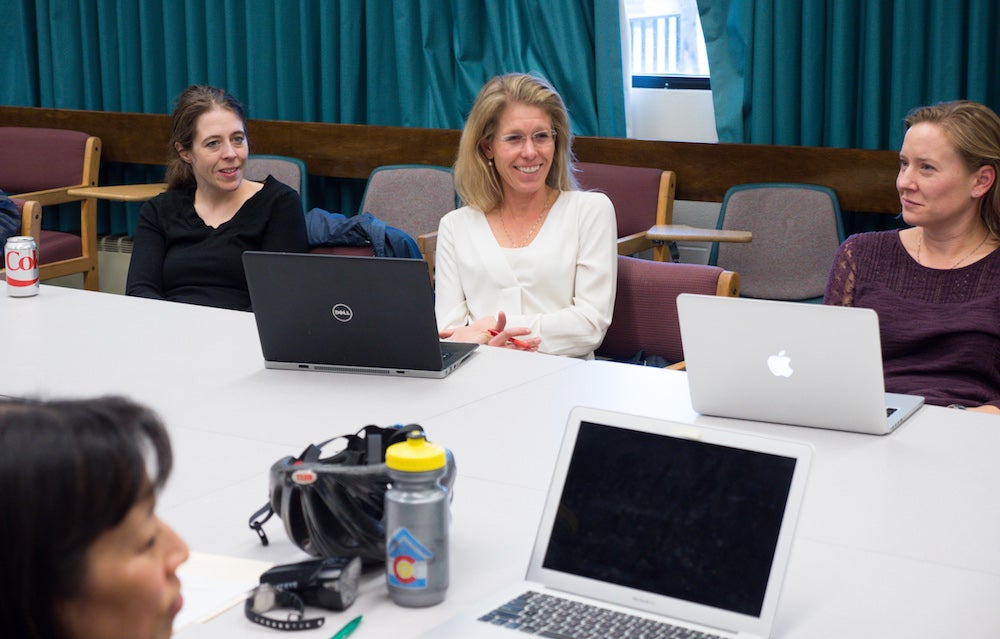 Spring 2019 Scholars Group: How can we develop and use illuminating classroom assessments?
Facilitators:  Erin Furtak (School of Education) and Stephanie Chasteen (Center for STEM Learning)
Are you lost in the sea of possible assessments of student learning?  Are you struggling to fit together different assessments to understand where your students are at?  Do you want some tools for considering whether your assessments are hitting the mark that you want? In this semester, we will work to establish a coherent framework for designing, enacting, and reflecting on data collected from classroom assessment (such as homework, exams, classroom discussions, and on-the-fly questions), and discuss how a variety of such assessments can best be used to answer your questions about student learning.  You will develop assessments, get feedback on them, and use tools to think critically about your existing assessments.
Erin Furtak is a Professor in the School of Education, and her research examines effective use of formative assessment practices in science and math classrooms.  Stephanie Chasteen is an experienced faculty developer and researcher, focusing on supporting faculty in incorporating evidence-based practices into their teaching.
Past scholars groups
Fall 2018: Aligning your curriculum:  How can we align courses and goals for the major? TRESTLE-ASSETT Special Interest Group (SIG). Facilitated by Stephanie Chasteen and Amanda McAndrew.
Fall 2017: Exploring course-based undergraduate research experiences. How can I design a course in which students begin to see themselves as scientists?    Facilitated by Lisa Corwin (EBIO) and Pamela Harvey (MCDB). 
Spring 2017: How can I help students take charge of their own learning?  Developing metacognitive activities to develop students' study and learning skills. Facilitated by Rebecca Ciancanelli (SASC).  
Fall 2016:  Designing and facilitating group-worthy activities. Facilitated by Jenny Knight (MCDB). 
Spring 2016:  Atmospheric and Oceanic Sciences, developing learning goals for the major.