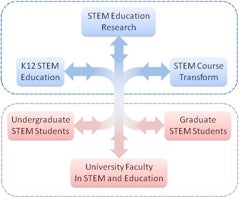 Advancing K20 STEM education by transforming the way we teach, discover, and share knowledge
The mission of the Center for STEM Learning (CSL) is to improve science, technology, engineering, and mathematics (STEM) education at the University of Colorado Boulder, and to serve as a state, national, and international resource for such efforts.
Our vision for achieving this mission is:
To maintain an infrastructure of institutional support in order to transform STEM education, support education research within and across STEM fields and departments, and promote K20 faculty recruitment, preparation, and professional development.
To facilitate change in STEM education by integrating an interdisciplinary community of scholars, promoting, sustaining, and evaluating existing reform efforts, sponsoring new programs, advocating for diversity and access, influencing relevant policy, fundraising, and communicating with the public.
The CSL, housed in the Graduate School, integrates more than 75 programs and projects in STEM education, representing tens of millions of dollars in grants at CU-Boulder. Many of these programs are nationally recognized and replicated.
PhET, which was selected as a Tech Award Laureate in 2011, provides fun, interactive, research-based simulations of physical phenomena for free. The project enables students to make connections between real-life phenomena and the underlying science, deepening their understanding and appreciation of the physical world. PhET features 120 simulations in 65 different languages, which are downloaded roughly 50 million times a year.
The CSL supports sister-efforts across the nation, advising and providing models for more than three-dozen colleges and universities seeking to transform STEM education and/or create centers for STEM education.
Additional CSL activities include:
Members of the CSL Executive Board include:
Read more about the importance of STEM education at CU-Boulder