By Hannah Stewart (Comm'19)
Kim Christiansen is no stranger to the Denver area—whether you're watching the nightly news or listening for your train at the airport.  
Her personality, commitment and service to the university are a key reason she's being recognized with an Alumni Recognition Award from CU Boulder.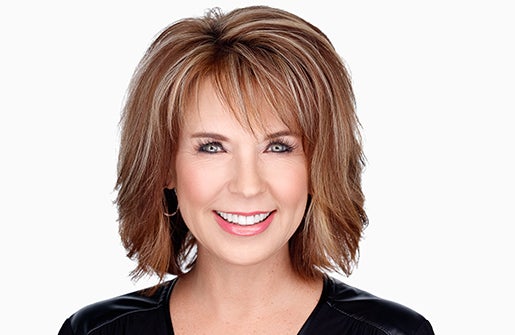 "Kim has served as an informal but high-profile ambassador for the university, with frequent and proud mentions of her CU journalism degree during nightly newscasts on Channel 9," said John Leach (Jour'74, MA'79), who nominated her. Leach won the Alumni Recognition Award in 2018 and currently serves on the CMCI advisory board.
Since graduating from CU, Christiansen (Jour'84) has served Colorado with 9News for more than 30 years. She is the lead anchor of their broadcast station, responsible for the 4, 5 and 10 p.m. newscasts. Additionally, in 2018, Christiansen became the female voice of Denver's airport train and since 2016 has emceed CU Boulder's Alumni Awards ceremony.
Now it's her turn to step back into the CU limelight this fall at the 94th awards event.
"I am so incredibly proud of CU and to be a graduate," Christiansen said. "You connect with people that you work with professionally and it's a source of pride to say, 'Yeah, we were CU grads.'"
The university takes incredible pride in her accomplishments, as well. 
"Kim is such an incredible ambassador for CMCI," said Lori Bergen, founding dean of the college. "She exemplifies the traits—reliability, enthusiasm, critical thinking—that we want all our students to emulate in their studies and as they go out into the world. We take pride in all she's accomplished and are thrilled to celebrate this honor alongside her." 
Because Christiansen regularly emcees the event, she didn't think twice when she got the email. In fact, "I literally read it three times" before the news sunk in that she was being honored, she said. "It was great news."
She's an avid fan of the Colorado Buffaloes, regularly attending football games and amplifying their successes on social media. And she remains a fixture of CU Boulder, like when she interviewed fellow alumna Savannah Sellers (Jour'13), the 2019 commencement speaker. And Christiansen's son, Tanner Feith, continued her legacy by completing a marketing degree this year.