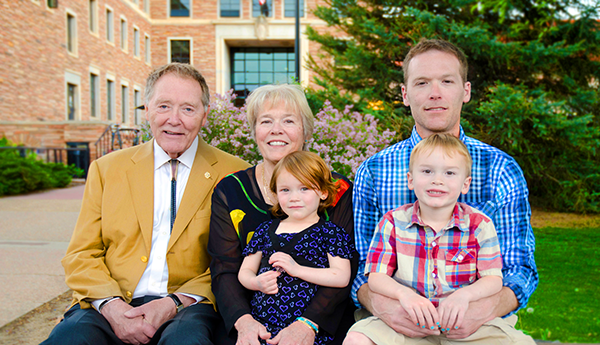 Jack and Jeannie Thompson have always shared a fondness for the American West and an appreciation of fine writing. Originally from Ohio, Jeannie began to discover the qualities distinctive to the West as a young girl "duding" at Triangle X Ranch in Jackson Hole, Wyoming, and visiting her parents in northern Idaho where they had a summer home. Jack grew up in Colorado.  After they met in the early 1960's at the University of Colorado, they took a course together from Professor Clifford Westermeier, an historian and expert on the history of rodeo.  The experience deepened their appreciation of the West and those who attempted to describe it.  To encourage the continuation of such endeavors, they are pleased to have established the Thompson Awards for Western American Writing, which recognizes excellent writing about a place that they both love.
Bios:
Jack graduated from CU with a BA in History on a Marine Corps ROTC scholarship in 1964, later returning to the University of Colorado to complete his MA in American History in 1970.  He earned his PhD from the University of Michigan in 1976, again in American History.  Following a distinguished career in academia, he retired in 1997, and the couple moved back to Boulder in 2002. Now an active artist, Jack is on the boards of the Center of the American West and the College of Arts and Sciences.  He is also a member of Boulder Rotary. Jack and Jeannie are proud to support the students, faculty, and staff of CU.
Jeannie earned a BA in Zoology from CU in 1964.  She also has an MA in Counseling Psychology and an MBA from Northwestern University.  She has had a 40 year career in the fields of health care, personal and career counseling, MBA admissions, workforce education, executive development and outplacement, mentoring and mediation.  Jeannie serves as past Chair of the Board of Directors of the University of Colorado Foundation and is active on the boards of the Boulder Alumni Association (ex officio), College of Music, Center for Humanities and the Arts, BioFrontiers Institute, and the Graduate School.  She was awarded an Alumni Recognition award in 2007.