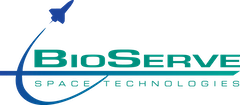 BioCell: Enabling Complex Cell Culture
The BioCell is a family of BioServe-developed cell culture hardware roughly analogous in function to a typical cell culture flask or multi-well culture plate.  The BioCell was developed to allow researchers to perform complex laboratory-fidelity cell culture on ISS while meeting NASA's strict guidelines for safety and biological containment. BioCells are available in three formats: single-well, six-well, and 12-well. All BioCells are compatible with the BioServe Microscopy Platform and the 12-well is also compatible with the Nanoracks Plate Reader.
The BioCell has two customizable membranes that can support cellular attachment, cell suspension and gas exchange. Typical materials include Teflon FEP, polycarbonate, and polystyrene depending on experiment requirements. All BioCell components are readily autoclavable or able to be gamma irradiated to meet sterility requirements associated with cell culture. The BioCell family is compatible with temperature ranges from -80 °C to +43 °C allowing for cryogenic storage.
The BioCell supports fluid injections, media exchanges, fixation, and culture preservation. Currently, the most common method to perform fluid manipulations with BioCell hardware is to allow the crew to perform the exchanges manually. BioServe provides full support for the fluid exchanges including certifying and flying syringe hardware and providing real-time voice support to astronauts. Alternatively, automated fluid exchange mechanisms have been used in the past for some BioCell models.
Both attached and suspended cell cultures are supported. Recently, some BioCell models have been fitted with custom material coupons to enable studies of biofilm formation on a number of different substrates.
The BioCell hardware-line originated in 2006 with the CHab module flown on STS-116. The first contemporary BioCell design was flown in 2014 aboard SpX-3. Since then, the BioCell has become recognized as the gold-standard in ISS cell culture hardware and has supported numerous flight experiments in tandem with SABL and ACM.
BioCell Research Applications
Mammalian cells/tissues
Small organisms (e.g., C. elegans)
Yeast, bacteria, fungi, algae
Biofilm formation studies
PHAB: Secondary Containment for BioCells and Other Hardware
To meet NASA's safety requirements for biological containment, BioCells are typically housed in a Plate Habitat (PHAB) that provides secondary containment. The PHAB is compatible with both BioCells and similar third-party hardware, such as OmniTrays™. The PHAB is available in different configurations to support gas exchange and accommodate newly developed hardware.