BioFrontiers Institute has a rich history of welcoming sabbatical professors and visiting researchers in our labs. We believe sabbatical professors make significant contributions to the BioFrontiers Institute research community, and we hope that the intellectual exchange of ideas, scientific collaborations, and informal mentoring and teaching experiences are mutually beneficial. We are excited to announce a formal program for sabbatical professors and our first visitors, Drs. Jacqueline Dresch and Robert Drewell, from Clark University. Jacqueline will be joining Robin Dowell's research group, and Robert will be joining Jim Goodrich's research group.
Jacqueline Dresch, Ph.D.
Assistant Professor
Department of Mathematics and Computer Science
Clark University
 
Professor Dresch's research focuses on modeling transcriptional regulation in fruit flies (Drosophila melanogaster).  She is interested in many topics at the interface of mathematics and biology, including reaction-diffusion equations, numerical solvers, sensitivity analysis, parameter estimation, image processing, and bioinformatics. Professor Dresch enjoys teaching a wide range of Mathematics courses, including Calculus, Linear Algebra, Differential Equations, Numerical Analysis, and Mathematical Biology.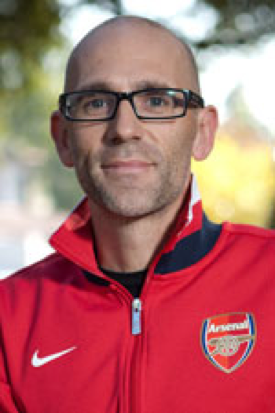 Robert Drewell, Ph.D.
Professor of Biology
Biology Department
Biochemistry and Molecular Biology Program
Director, Mathematical Biology and Bioinformatics Concentration
Clark University
Dr. Drewell's research applies experimental molecular genomic, mathematical and computational approaches to investigate the regulation of gene expression during development. The major focus is on analyzing the epigenetic and regulatory networks that control transcription in the embryo in model insect species, including Drosophila and social insects. Dr. Drewell teaches Genetics, Epigenetics, Bioethics: stem cells, embryos and reproduction, and Mathematical Modeling of Biological Systems.
---
How did you select CU Boulder and BioFrontiers Institute as a destination for your sabbatical?
[Robert] Boulder has a reputation as a very welcoming, friendly city and CU Boulder has a strong research profile in Molecular, Cellular and Developmental Biology.  The objectives of the BioFrontiers Institute dovetail really well with the current interdisciplinary direction for the research in my own group.
[Jacqueline] We were looking for a place with energy and excitement around interdisciplinary research.  The BioFrontiers Institute seemed a perfect destination for myself, an applied mathematician working on problems at the interface of mathematics, biology, and computer science, and my husband, a molecular biologist whose lab has recently been moving more and more toward quantitative and computational approaches.
Are there any faculty with whom you are excited about the opportunity to collaborate?
[Robert] I am interested in working with Jim Goodrich, Robin Dowell, and Sara Sawyer. 
[Jacqueline] I am very excited to have the opportunity to work with Robin Dowell while in Boulder.  I believe her lab's mix of computer scientists and experimental biologists will be a great setting for the fall semester. 
Are there any specific opportunities you would like to experience during your visit?
[Robert] I think just being able to interact with the wider group of faculty and various research groups during my time at the BioFrontiers Institute will be important.  I am looking for a blend of time to simultaneously learn about new approaches and topics, potentially establish new collaborations and be able to write-up grant proposals and papers from my existing work.  It would also be great totake advantage of the unique geographically location of Boulder and explore the area.
[Jacqueline] I am really hoping to embark on some new collaborative projects.  I am looking forward to meeting new people and exploring new areas of biology where some of the mathematical approaches I commonly use in studying gene regulation could be applied.  I am also excited for the opportunity to explore Boulder and some of the surrounding areas.
What will make you feel like this is a successful sabbatical?
[Robert] If I can leave Boulder feeling that my intellectual development has progressed and that I have been exposed to potential new avenues for research. 
[Jacqueline] It will feel successful if I can leave having made some new connections.  I am hoping to not only make some new friends and collaborators but to also make some intellectual connections myself to new areas I may be interested in exploring in future research.