The Department of Art & Art History continues to foster relationships with our graduates across the globe. We recognize alumni for their service, achievements and professional excellence in order to showcase them within the Art & Art History family.
Alumni, keep us informed! Please submit your updated contact information and career updates today to finearts@colorado.edu.
---
Alumni in the News
Adam Milner
BFA, 2011
Artist Website
Adam Milner was born in 1988 in Denver, Colorado, and lives and works in Brooklyn, New York. The artist received a BFA from the University of Colorado and an MFA from Carnegie Mellon University. Working across sculpture and installation, Milner investigates and recontextualizes the objects of the home, the hoard, the museum, and the body, questioning the boundaries and hierarchies that rule these domains.
Rick Silva
My main motivation to attend CU was to study digital art with Prof Mark Amerika. The graduate teaching opportunities, access to professional equipment and facilities, and easy access to the Rocky Mountains also made it my top choice. 
A highlight was receiving a graduate research award for my multimedia internet art project titled SCREENFULL. The other recipients that year were all science PHDs, and it was affirming to be recognized at that level and context. SCREENFULL was recently featured in Rhizome's Net Art Anthology book.
My newest project is a series of 8 videos titled CORES. They are a collaboration with Vancouver BC based artist Nicolas Sasoon. The online version premiered this fall and includes an accompanying essay by Elise Hunchuck and Jussi Parikka s-i-g-n-a-l-s.com/cores. An installation version of CORES will be shown at the Hors-Pistes exhibition at the Pompidou Centre in Paris from Jan-Feb 2021.
Adam Sekuler
MFA, Film, 2017
Artist Website
Since the program consists of not just filmmakers, but artists across disciplines, cohort feedback would come from artists working not just in filmmaking, but in photography, ceramics, sculpture, print making, and painting. Moreover, this gave me access to professors working in those disciplines as well.
When I was looking at graduate programs, I applied to a number of schools where I knew the work of the faculty. CU, at the time, had a number of well known filmmakers; Jeanne Liotta, Phil Solomon, Alex Cox, and Reece August. I admired all of their work, but faculty reputation alone wasn't the deciding factor. Additionally, when I learned that my incoming film cohort would consist of just one other student, I couldn't believe it. Not only would all these wonderful artists become colleagues and mentors over the next few years, but I wouldn't have to struggle to get time with them. Boulder, was unique in other ways as well.
I currently live in New Orleans teaching at Loyola University. My practice remains active with several projects in development. I recently received a major grant from POLIN, a Jewish museum in Poland, to make a new short film for an exhibition that will take place in April of 2022. Additionally, I'm in production on a new feature length documentary called The Flamingo, about a late in life sexual awakening of a 60 year woman in Salt Lake City. I also just completed a short experimental film exploring abandoning a project on the end of the world amidst a global pandemic.
Ryan Everson
The connections and friendships made with other students and faculty were the most important. The uninterrupted time for studio work and the focus on creative process was important in developing both hard and soft skills while at CU.
I currently own Matchless Builds in Portland Oregon. Its a 12 person shop focused on making ideas a reality. We build fine furniture, cabinetry, fine art and pretty much anything imaginable. We are currently working on a large fine furniture project and some large scale public art pieces.
David Alcantar
MFA, Painting & Drawing, 2004
Artist Website
It is during the informal time where you find the greatest authenticity and sincerity. That is when some of the greatest learning actually occurs, and when bonds are formed and strengthened, because there's less theater and more sincere reaction to what is happening to us and around us. It is absolutely critical to accept (and perhaps this is underscored by our current circumstances) that we are imperfect beings, prone to mistake, navigating flawed systems as best we can to (hopefully) improve them. 
Despite having applied to dozens of art programs across the country, CU provided me with the most generous financial offer and the immediate opportunity to achieve a personal goal of living away from home in Texas, and obtaining my terminal degree. It certainly didn't hurt that CU is nestled against the backdrop of the Flatirons, which I went to visit at Chatauqua Park on a regular basis between classes.
I am a full-time artist, working from a home studio. I just finished a body of work that illustrates a specific aspect of an ongoing investigation into negotiation behavior.  This small body of work, uses mapping and diagrammatic visual language to illustrate how the choices we make pull or push us into trajectories of time, space, and history.
Aaron Treher
MFA, Sculpture & Post-Studio Practice, 2018
Artist Website
I chose CU for several different reasons. First, I was interested in a MFA program that had well known faculty that were leading the way in the growing territory of art practices that fall outside of the typical studio art model. Second, I was very interested in working with Yumi J. Roth and Richard Saxton whose practices incorporate a very wide range of influences. I had worked with countless volunteers and in a variety of contexts that all fell outside of what might be considered a normal arts practice. Naturally, I wanted to find a way to merge my arts practice with the community projects that I had been invested in. That's when I came across the Sculpture and Post-Studio Practice area and the Rural Environments Field School at CU. I had applied to a number of other programs but the SPS area was exactly what I was looking for to grow my arts practice.
If I can give any reflection, it is about the importance of getting lost. I mean that in every sense of the phrase. Get lost in your work and forget that anything is happening in the world around you. Also, get lost in your concepts and realize that the ideas you are pursuing are so much more complex than you can ever expect to completely master in your time as a graduate student.
And most importantly, get lost in the land. Drive into the eastern plains of Colorado, turn off your GPS and follow the first dirt road you find. Drive until you don't know East from West. Maybe then you can really find out where you are going.
My most recent public art project is a small collaborative project called the Street Light Survey Project and is funded by Boulder City's Office of Arts and Culture. The Street Light Survey Project is a project that functions as an archive of urban ecology and street lights. The work is aimed specifically at creating an awareness of the interaction between artificial light, animals, and the human built environment. The project consists of two street signs, a biodiversity survey, an online database, and a corresponding sonic interpretation of the survey data. Located at a public street light that has a high rate of attraction to bugs—an official project sign, survey box, and biodiversity survey will guide residents to collect information and document insects at a designated site and other street lights. 
Melanie Clemmons
The visiting artist program was an invaluable part of my experience as a graduate student. I was able to meet artists I admired, and am fortunate enough to continue to keep in touch with them.
I'm currently working on a solo show about live cams and healing for Women & Their Work Gallery in Austin, TX, and am an assistant professor of digital/hybrid media at Southern Methodist University.
Before I attended CU Boulder, I worked a lot of random day jobs and would spend my free time doing live visuals for bands and installations, and teaching myself how to make net art. When I found out that professor Mark Amerika had a similar background and was critically engaging with that kind of art at the graduate level, I was intrigued and wanted to work with him and in the IMAP program.
Yana Payusova
MFA, Interdisciplinary Media Arts Practices (IMAP), 2006
Artist Website
I have been teaching at the University of Arizona in Tucson and have just accepted the position of Assistant Professor of Painting at the University of Texas at Arlington and will be moving to Dallas/Fort Worth in August. In the studio I am working on a large-scale ceramic installation entitled Memory as Weight, Power, Burden which is scheduled to be shown at the Museum of Russian Icons in March 2021.
CU Bouder's MFA program gave me the time, the necessary resources and all possible support to develop and mature as an artist. I really appreciated the interdisciplinary nature of the program, as we were able to take any course that we were interested in and interact with other MFA students from painting, ceramics, art history, etc. during graduate seminars. The relationships I built with my fellow graduate students have turned into lifelong friendships and these people are now my collaborators, colleagues and closest friends. 
Michael Dixon
I received two bits of advice when I was considering graduate school. The first was to pick a place where there was someone you wanted to work with teaching in the program, and the second was to pick a place that you felt like you could live in for two or three years. CU Boulder fit the second criteria for me. 
My graduate school experiences pushed me and stretched me. There was lots of joy and lots of disappointment. I think the people I continue to stay in contact with made my time in Boulder priceless. I want to mention Kay Miller who was the chair of my graduate committee. She is the reason I ended up attending CU Boulder, and she continues to be a positive force in my life today. Overall, the years I spent in graduate school were some of my best years of my life. 
I am currently working on a new body of work called "Picaninny 1976." My mother is white and my biological father is black. I make work about race and identity that primarily focuses on exploring this "in between" space. My mother's parents grew up in Mississippi and when my grandfather first met me he said, "Where is that little picaninny?" I am painting images of myself as a child and inserting crocodile/alligator imagery. The pairing of black children and alligators is common within racist memorabilia in the United States. These images were ubiquitous around America but especially around the gulf states.  I am interested in the word picaninny; its historical context; this particular personal narrative within my family; and the implications of violence or erasure of black bodies within this imagery.
Dakota Nanton
MFA, Film, 2019
Artist Website
It was amazing to have studio visits with the many visiting filmmakers and artists in the program, I met so many artists I looked up to previously and got to have one-on-one discussions with them.
I was an Alumni of the BFA program in printmaking and had a great experience with supportive faculty and staff in the department. When I decided to pursue my BFA I returned to the MFA program in another discipline in order to expand my career skills and work with the amazing mentors on the faculty and to take advantage of the amazing facilities and resources.
I recently began a career as an Assistant Professor of Cinema at the University of Hartford after completing the prestigious yearlong "Jackie McLean Fellowship". I am currently working on an animated travelogue that is the culmination of five years of research and archival work.
Summer Ventis
MFA, Printmaking, 2012
Artist Website
I chose the CU Boulder MFA program for the interdisciplinary nature of the program, for the amazing facilities, and for the opportunity to work with the CU Boulder faculty.
It was important to me to work in an interdisciplinary environment. The opportunity to interact closely with faculty and other graduate students, not only from other studio areas, but also from Art History and Film, was invaluable.
My recent work engages the reciprocal relationship between internal and external landscapes, between people and our environments, in the landscapes of the Western and Midwestern United States. Across these bodies of work, the tent form is emblematic of the tenuous nature of our relationship to our surroundings, an object that allows us to connect with the landscape, to spend time in it, by separating and protecting us from it. I am currently Assistant Professor of Printmaking at California State University Sacramento.
Judd Schiffman
MFA, Ceramics, 2015
Artist Website
I just completed my third year as the Visiting Assistant Professor of Ceramics at Providence College in Rhode Island. I am making new work for a solo exhibition at Maake Projects in State College, PA, a group exhibition at Inman Gallery in Houston, and a group exhibition at 1969 Gallery in New York. My recent work explores utilizes wall-mounted, framed narratives composed of ceramic tiles to explore themes of masculinity, discovery of self, sexuality, and family, and all the nuanced guilt, confusion, and elation that exist in tandem.
I loved the work of all the ceramics professors and felt aligned with their approach towards art-making. After visiting, I felt like everyone in the program was dedicated to their studio practice but also invested in their students, and that there was a strong sense of community. I was right, and it was one of the best decisions I ever made. All the current graduate students were completely immersed in their studio practices and intent on transforming their work. I also liked the interdisciplinary nature of the program.
Graduate school was a rich time for me, all I did was work in the studio, read, and hang out with new friends from the graduate school. I had meaningful conversations and felt immersed in a rigorous practice. I spent a lot of time thinking about what art is, and how it can be a part of my life. I was invigorated by the visiting artists, professors, and other students dedicated to making art. I laid the foundation for a lifelong studio practice, expanded my understanding of historical and contemporary art, and started the process of becoming a professional artist.
Jonathan Nicklow
I chose the MFA program at CU Boulder so I could study under Melanie Yazzie and the other faculty in the Art and Art History Department. The opportunity to fully focus on my art practice during my time in graduate school was my best memory.
Currently I am able to pursue my printmaking in my home studio and continue to produce relief, intaglio, and monotype prints. I am also teaching at Metro State University, Denver.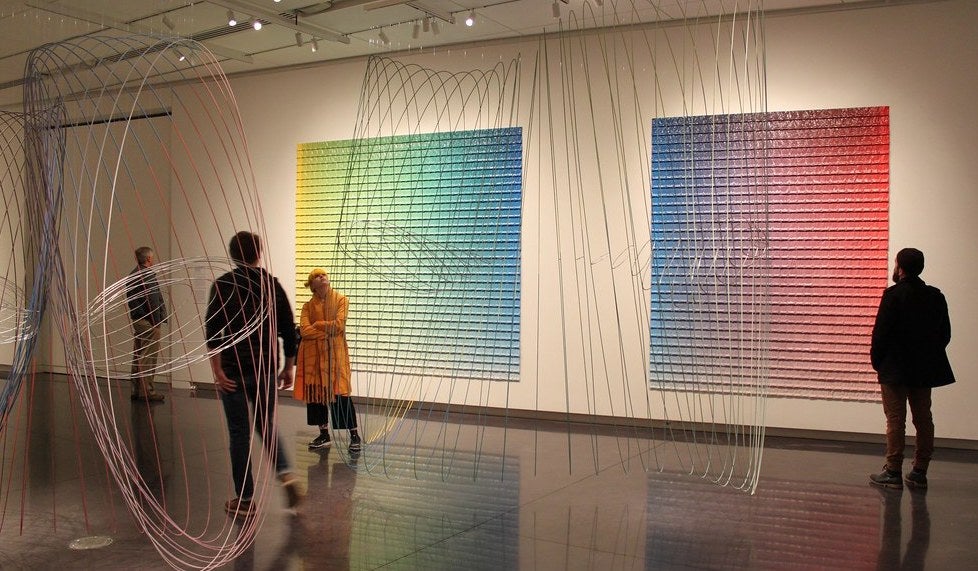 Class Notes
Art & Art History alumni you are invited to share career highlights and contact information.