CU-STARs (Science, Technology and Astronomy Recruits) is a University of Colorado program to support students from all backgrounds interested in space.  We offer training on the telescopes at Sommers Bausch Observatory, our own large suite of portable telescopes, and "flying" at Fiske Planetarium.  We hold events on campus, and also take our telescopes, astronomy classes and demos, and an inflatable planetarium to underserved schools all over Colorado.  Our goal is to create a supportive community for all students, and share our passion for astronomy with others. 
We meet weekly on Tuesday evenings from 5:00-6:00pm at Sommers-Bausch Observatory and hold special events throughout the semester.  You are NOT required to attend every meeting or event-  participate when and how you like. For more information,  email  custars@colorado.edu or stop by one of our meetings. Everyone is always welcome!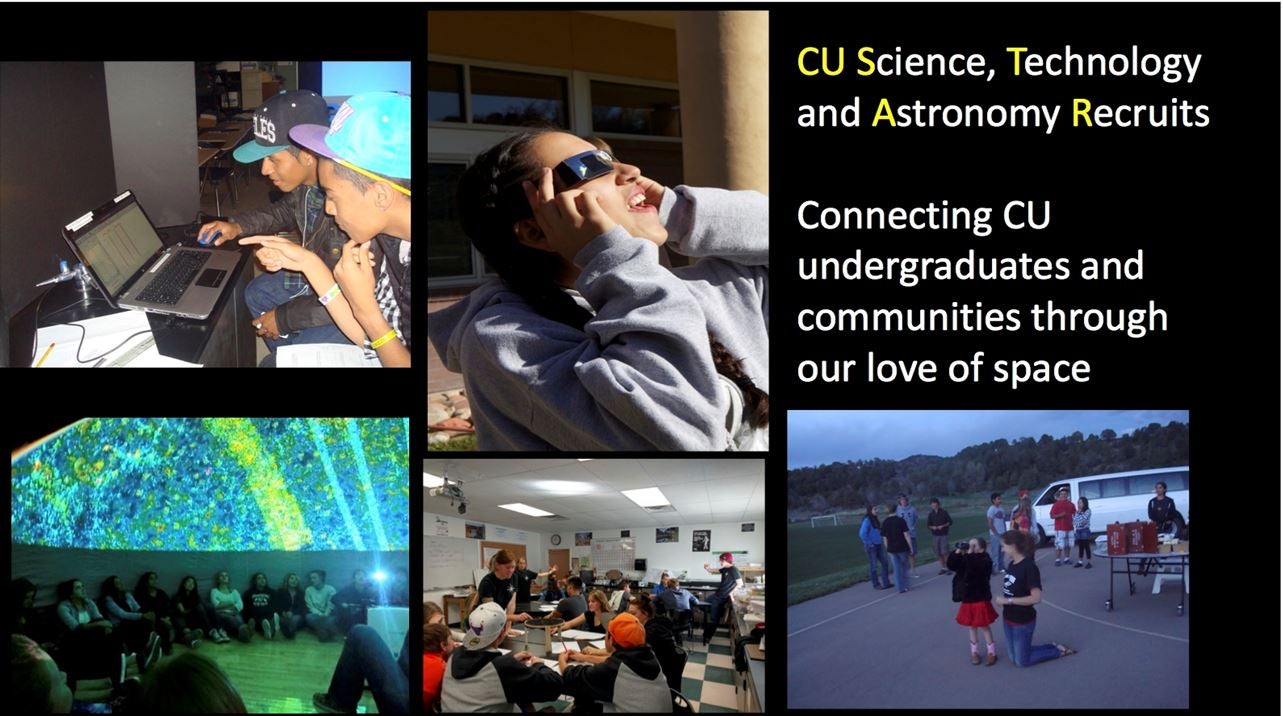 Here are some of the benefits you'll enjoy as a CU-STAR:
Community Outreach and Teaching
Develop and present science talks and labs to communities around Colorado, teaching high school students about astronomy, science, and technology as an "astro-ambassador." Recent overnight and day trips have included Canon City HS, Trinidad HS, Delta HS, Montrose HS, and CEC Middle College in Denver. 
Telecopes and Community Star Parties 
Learn how to use the large telescopes at the Sommers-Bausch Observatory on campus and participate in public observing and star parties around Colorado
Advising, Mentoring, and Tutoring 
Get personalized help on choosing classes, applying for scholarships, navigating CU, excelling in your coursework, and more
"Becoming a Scientist" Life Skills Discussions
Learn how to write a CV, apply for summer research positions, how to manage stress and feelings of imposter syndrome 
Great Friends and Fun Events 
Be part of a close-knit group of exceptional students; get to know faculty, staff, and graduate students who are passionate about space
If you have any questions or are interested in joining us, please email us at custars@colorado.edu.