From the Chair
Dear Friends of Women and Gender Studies,
Fall 2020 has been like no other! The semester began with the university opening its doors to the many students who sought an in-person education, while also ensuring the safety of faculty, staff, and students with whom they would interact. Everyone became expert at teaching, learning, and meeting remotely using technologies many of us had never encountered this time last year. As the in-person component of the semester now comes to an end with the Thanksgiving holiday, I am sure we all wish health and safe travel to those who are moving from one community "bubble" to another.
As a new chair, I would very much have preferred getting to know the faculty, students, and staff in Women and Gender Studies at the historic Hazel Gates Woodruff Cottage under more normal circumstances, but we are all trying to make the best of it. Several faculty—myself included—have been taking advantage of the expanded reach allowed by technology to participate on panels focused on issues of professional or personal interest. As our staff circulate news of these events, we hope you will feel free to sit in on as many as appeal to you!
In the meantime, I invite you to peruse the rest of the newsletter. It includes a tribute to Alison Jaggar on her retirement; a profile of our graduate certificate student, Cassy Gonzalez (ETHN PhD student); news about the Gender Justice League; faculty/staff updates, as well as a profile on yours truly as the new WGST chair; and information about all the events we've had so far, including links to view the webinars.
Thank you for your continued support of Women and Gender Studies, especially in these uncertain times. As always, we'd love to hear from you!
Sincerely,
L. Kaifa Roland
Chair, Women and Gender Studies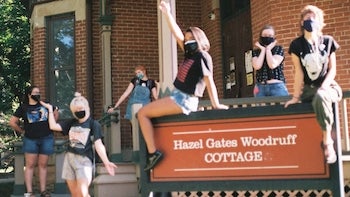 The Gender Justice League, our undergraduate student practicum group, has been working under the slogan "physically distanced feminist persistence" this semester -- starting out with in-person meetings, but as with all classes at CU Boulder this semester, have transferred to remote learning. This hasn't stopped them from creating several avenues for creating and curating joy for themselves and others, including a new website, zine, podcast and Instagram page.
Read more...
Dr. Alison M. Jaggar, Professor Emerita of Philosophy and Women and Gender Studies at the University of Colorado Boulder, formally announced her retirement on August 31, 2020. A fellow of the American Academy of Arts and Sciences, and a CU Boulder Arts and Sciences College Professor of Distinction, Jaggar is considered the pioneer of introducing feminist concerns into philosophy. In appreciation of her work, service, mentorship, and friendship through the years, we share with you just a few stories of how much she is valued by those who have had the honor to work with her. Read more...
WGST faculty & staff are excited to announce that Dr. L. Kaifa Roland, associate professor of Anthropology, has accepted their invitation to serve as Chair of the Department of Women and Gender Studies. The author of Cuban Color in Tourism and La Lucha, Roland has conducted extensive field research in Cuba, with a regional focus on the Caribbean and the broader African Diaspora. Read more...
 
---
When Cassandra Gonzalez (WGST BA '13 & Grad Cert '17) was a high school senior trying to decide what to study in college, she had a difficult time narrowing down the countless possibilities she wanted to explore. It was during a dental appointment, though, that she found inspiration. Read more...  
---
With great sadness, we share the announcement that our dear friend and colleague Professor David Shneer has passed away after a long battle with cancer. His impact to the WGST department and LGBTQ Studies Program will be forever honored, and he will be greatly missed. Read more...
Dr. Samira Mehta has been named one of the three recipients of this year's Cashmere Subvention award in Jewish Gender, Sexuality and Women's Studies by the Association for Jewish Studies (AJS) in support of Mehta's upcoming book God Bless the Pill: Contraception and Sexuality in Tri-Faith America. Read more...
---
WGST's administrative assistant, Valerie Bhat, was named the Employee of the Month for the Division of Social Sciences in the College of Arts and Sciences for the month of September in recognition of her dedication, passion and hard work. Read more...
Dr. Kristie Soares has been selected as a recipient of the Best Should Teach Gold Award. With this award, Soares joins an elite group of dedicated scholars, recognized for their exceptional talents in teaching and academic leadership that exemplify award founders Lindley and Marguerite Stiles' message that "The Best Should Teach." Read more...
Wyrod awarded National Science Foundation grant
We are pleased to announce that Dr. Robert Wyrod has received a major grant from the National Science Foundation. Awarded this summer to fund his research for the next three years, this grant will support Professor Wyrod's ongoing research on the role China is playing in development in sub-Saharan Africa. Professor Wyrod has been conducting ethnographic research at several large China-funded projects in Uganda, including a massive hydroelectric dam and an industrial park. An associate professor in both women and gender studies and international affairs, Wyrod is particularly interested in how China's development assistance in Africa affects social inequalities, including the impact it has on the lives of African women.
Congratulations to Dr. Wyrod in receiving such a large, prestigious, and well-deserved grant!
Faculty Updates: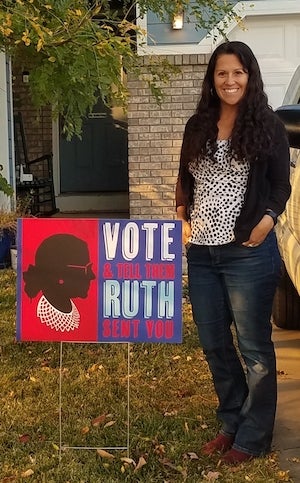 The fall semester heralded new changes in our departmental leadership! In addition to Dr. L. Kaifa Roland becoming our new chair, Dr. Deepti Misri is now serving as the associate chair of Women and Gender Studies, and Dr. Emmanuel David has become the new graduate director as well as our Honors Program advisor (in addition to his continuing co-directorship of the LGBTQ Studies Program!)
---
In June, Dr. Celeste Montoya (pictured here) started a 4 year term as a co-editor of the American Political Science Review, the flagship journal in political science. She also helped launch a new book series "Intersectionality" with Temple University Press, that she will also be co-editing. With the election season, she has given a number of media interviews locally (The Denver Post, The Denver Channel, and KOA) and nationally (NPR, The Washington Post, The Economist, Univision, and The Christian Science Monitor.)
Dr. Montoya was also featured in the podcast "Guerreras: Guerreras as Activists and Bridgebuilders" along with WGST student Mariana Galvez Seminario, whose co-authored paper "Guerreras y Puentes: The theory and praxis of Latina(x) activism" was recently published in the journal Politics, Groups and Identities. They discuss the importance of Latinas as organizers and leaders within coalition building, such as leading non-profit organizations and becoming beacons of hope for the future of Latinx representation. Listen on Spotify!
---
Dr. Samira Mehta, in conversation with Professor Elias Sacks, Director of the Program in Jewish Studies, presented a webinar in July which explored emerging efforts to blend kosher practices, environmentalism, and ethics—often known as "eco-kashrut"—and considered ways in which many Jews are connecting not-necessarily-Jewish eating habits to their moral lives as Jews. Mehta, along with Dr. Samuel Boyd of Jewish Studies, wrote the article "A justification for unrest? Look no further than the Bible and the Founding Fathers" in The Conversation, which contends that understanding how unrest informed both early Christianity and the foundational stories of the United States can serve as a guide in this current period of turmoil. Mehta also interviewed Rabbi Sandra Lawson this October during a UCLA Hillel Zoom event titled "Black and Jewish in America," and was featured in several interviews herself including this appearance in The Christian Science Monitor.
---
New Faculty Publications:
Montoya & Brown, "Intersectional Mentorship" in PS: Political Science & Politics;  Montoya & Galvez Seminario, "Guerreras y Puentes: The Theory and Praxis of Latina(x) Activism" in Politics, Groups, and Identities; Montoya, Bejarano & Brown, "Shared Identities: Intersectionality, Linked Fate, and Perceptions of Political Candidates" in Political Research Quarterly;  Montoya, "Intersectionality and Voting Rights." in PS: Political Science & Politics; Mehta, "Christmas in the Room: Gender, Conflict, and Compromise in Multi-Religious Domestic Space," in Religions;  Mehta, "Prescribing the Diaphragm: Protestants, Jews, Catholics, and a Changing Culture of Contraception," in American Religion; Soares, "'Latin Lovers, Chismosas, and Gendered Discourses of Power': The Role of the Subjective Narrator in Jane the Virgin" in Decolonizing Latinx Masculinity; Soares & Na'puti, "Militarization without Representation: Your Vote Could Determine the Future of the U.S. Territories" in Latinx Spaces.
In Case You Missed It:
Watch video replays of our virtual events this semester and view lists of resources created by our faculty.
Watch our faculty panel share their thoughts in this online discussion, and view a list of resources provided by our panelists. See more...
Our faculty and student panel shared their thoughts on the issues of race, caste, identity, structural power and representation that Senator Kamala Harris' historic Vice Presidential nomination signifies. Watch now...
Dr. Kristie Soares delivered the inaugural American Music Research Center's Counterpoints Lecture, exploring the evolution of Celia Cruz's signature catchphrase "azúcar." Watch now...
Dr. Kwame Holmes led us in a discussion of Akwaeke Emezi's young adult novel Pet, which seeks alternate visions for justice in a utopian world without prisons. Watch now...
In recognition of Latinx Heritage Month (September 15th - October 15th), we'd like to share with you this list of resources, collected by WGST professor Dr. Kristie Soares. View now...
Opt in to receive emails about our upcoming virtual departmental events, discussions, and more.
Sign up here...