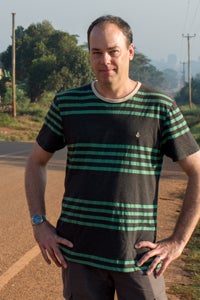 We are pleased to introduce our newest faculty member, Dr. Robert Wyrod, assistant professor of women and gender studies and international affairs. Wyrod is a sociologist who studies gender, sexuality, and social change in the developing world. He received his PhD from the University of Chicago, then completed a postdoctoral fellowship at the Center for AIDS Prevention Studies at UC San Francisco before joining the faculty at the University of Michigan, Ann Arbor. His recently published book, AIDS and Masculinity in the African City: Privilege, Inequality, and Modern Manhood (University of California Press, July 2016), is the first to examine how the AIDS epidemic has shaped masculinity in urban Africa, and is based on a decade of fieldwork in a slum community in Kampala, Uganda.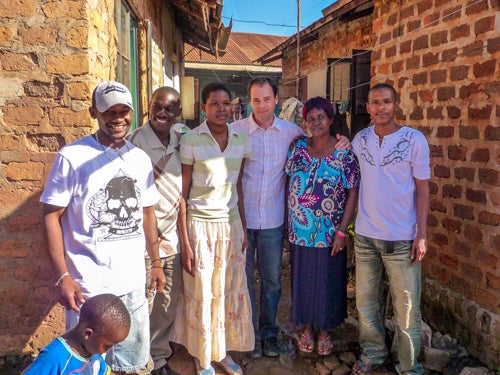 For several years before beginning work on his PhD, Wyrod worked as a science news producer for a daily Japanese news program in New York City, and was involved with independent film, video production, and video activism. It was through his video activism that he was introduced to several filmmakers who were also doctoral candidates in sociology, leading him back to graduate school where he incorporated his filmmaking into his ethnographic research.
While living in New York City, Wyrod was also involved in activism in the Puerto Rican community in Williamsburg, Brooklyn, working with a vibrant community-based organization, Musica Against Drugs, which addressed AIDS among drug users. Wyrod notes, "this experience showed me how racism, economic inequality, and AIDS all intersected." After visiting his brother in Guinea, West Africa, who was there working as a Peace Corps volunteer, Wyrod first came to appreciate how devastating AIDS was in many parts of Africa. "This led me to focus on AIDS in Africa for my PhD research, and to Uganda because that country was seen as the great African success story in combating AIDS. I was curious to learn if this success was tied to deeper social transformations in gender relations, especially men's longstanding privileges and power in sexual relationships with women. To my surprise, and frankly disappointment, I found that such sexual privileges had been largely unchallenged by the long-standing AIDS epidemic. In my book, I try to explain why that has been the case in Uganda, and in sub-Saharan Africa more generally."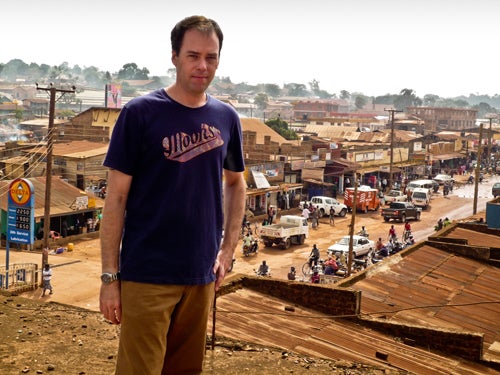 For his latest project, Wyrod is focusing on another major historical event in Africa that has shaped gender relations, namely the dramatic and massive increase in Chinese development assistance to sub-Saharan Africa since 2000. He spent a month in 2015 in a Ugandan village, the site of a huge, new Chinese-funded development project, doing ethnographic fieldwork to learn how the village is being affected by the project, and how villagers feel about China's new role in Uganda. "I'm especially interested in the effects on women because there is almost no research focused on how Chinese development impacts African women. From my initial fieldwork, it appears that the villagers are quite unhappy with the Chinese presence to date, with women in the village particularly critical. My findings are disconcerting and mirror much of the research on Chinese development elsewhere on the continent."
This semester, Wyrod teaches "Gender, Sexuality, and Global Health" for women and gender studies, and a capstone course for International Affairs majors "Globalization and Africa." Erica Zwahlen, a junior sociology and women and gender studies double major, related that "Professor Wyrod's enthusiasm while teaching is infectious and his topics (in Gender, Sexuality, and Global Health) spark lively classroom debates. He is an extremely caring, thoughtful, and well prepared teacher."
We will be celebrating the release of his new book, AIDS and Masculinity in the African City: Privilege, Inequality, and Modern Manhood, on Friday, November 4th from 3-5pm in the Hazel Gates Woodruff Cottage.
Book Release Reception–
AIDS and Masculinity in the African City:
Privilege, Inequality, and Modern Manhood
Friday, November 4, 2016
3:00-4:30pm • Hazel Gates Woodruff Cottage
Join us to celebrate the release of Dr. Robert Wyrod's new book, AIDS and Masculinity in the African City: Privilege, Inequality, and Modern Manhood, published by the University of California Press. Mark Hunter, author of Love in the Time of AIDS: Inequality, Gender, and Rights in South Africa, writes that "AIDS and Masculinity in the African City offers compelling new insights into AIDS in Uganda—one of the world's most talked-about success stories. Anthropologists, gender scholars, and public health practitioners should read Wyrod's important account of how AIDS reshapes—but also reproduces—dominant masculinities."