Retirement Celebration
Friday, April 16, 2021
2:30–4 p.m.
Zoom meeting
After 19 years at CU Boulder, Nancy Judson is retiring in mid-April! We are so happy for her, but so sad to see her leave CU.
Ahead of the virtual event, we encourage you to leave a personal message for Nancy in one or both of the following ways:
Submit a video message. Please keep your videos to under 1 minute and submit them by April 9.
Sign Nancy's retirement card. This will be delivered to Nancy on April 16, ahead of the Zoom celebration.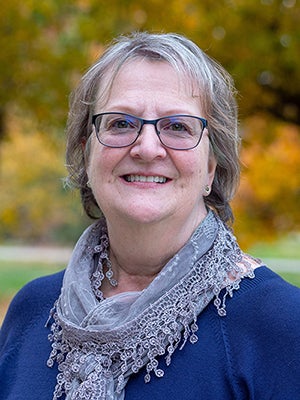 Nancy Judson has over 19 years of dedicated service to CU, and more than 22 years in higher education. She worked at Wayne State College for three years before joining CU Boulder's admissions office in 2001, where she held various roles over 11 years, including state service trainee, data specialist, and data supervisor of admissions operations. 
Nancy joined the Office of the Registrar in 2013, bringing with her an incredible amount of CU admissions experience and knowledge that helped her excel in her role as a tuition classification officer. Her talents were quickly realized, and she was promoted successively to lead tuition classification officer, tuition classification manager, and finally assistant registrar of tuition classification.
Under Nancy's leadership as assistant registrar, her team has implemented many improvements to the ever-changing tuition classification experience for current and admitted students, including producing short informational videos about state residency laws and processes, developing online trainings for students and families, and converting numerous tuition classification petitions and forms to a fully online format.
She was also involved in moving from paper admissions applications and tuition classification petitions to an online process. Reflecting on this key accomplishment, she said, "Thanks to the talents of our developers and the team effort to dream, test and revise the petitions, we have a really good process in place."
Beyond being a human encyclopedia of knowledge and information around Colorado tuition classification law, Nancy is one of the kindest people you will ever meet and also a proud wife, mother and new grandmother. In retirement, Nancy is looking forward to spending more time with family, traveling a bit more and training a new puppy next fall. She'll also be looking for part-time employment for a chance to try something new.