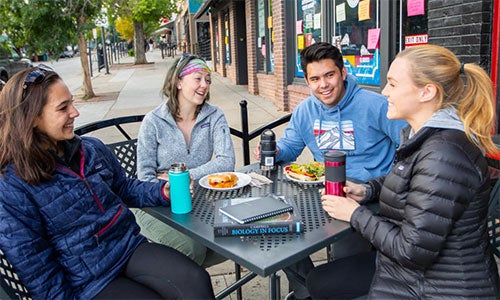 Hello everyone!
My name is Brooke Curry and I am a Journey Leader Mentor here at CU Boulder. In this email, we will be providing resources, next steps and reminders. We would like to take a moment to congratulate all of you on your acceptance to CU Boulder. Transferring schools can be a difficult decision, but just know that we are so excited to welcome you into our herd here at CU Boulder and we cannot wait for you to experience all there is to experience as a CU Buffalo. We hope that you have a smooth transition to CU Boulder!
Below are some resources that might assist in your transition and journey as a transfer student at CU:
You may be asking yourself "So what next?" Learn about what you should be doing right now and in the coming months as we get closer to Fall Welcome and the fall semester here on our incoming transfer student page.
One to-do item to get you started is to activate your Identikey. This is a series of four letters and four numbers that will be used throughout your time at CU to log into various websites and is actually your email address as well! You can also log into your CU email account. You will start receiving emails and getting it set up will help connect you with our community.
We also have a few reminders for you!
Our office runs the Buff 2 Buff Program which offers virtual Meet & Greets with some of our student leaders! This link has dates for all first year students as well as the transfer student specific dates and times.
Remember to sign up for our July 26 Transfer Meet and Greet from 2-3 p.m. Click to register for the Transfer Meet and Greet.
Both Journey Leaders and Journey Leader Mentors offer appointments through Buff Portal Advising. These are 30-minute virtual meetings with one of us to discuss questions regarding the Online Experience, Fall Welcome or what it's like to be a current student.
To sign up for an appointment, follow the Buff 2 Buff link above and scroll down until you see "Meet With A Journey Leader." Follow those steps to find a time that will work for you. 
We hope you find some of these resources helpful, and please don't hesitate to reach out to welcome@colorado.edu if you have any questions or need any help with anything above. 
Lastly, I would like to give some of my own personal advice from my experience of being a new student at CU Boulder. Personally, I was quite overwhelmed when I first came to campus. There were so many new people, places, and things to do. I remember being both quite excited as well as quite nervous about the transition. I want to remind you that it's okay to be scared when you first transfer schools–that is totally normal. No one's experience transitioning to CU is the same, so don't compare your journey with anyone else's. I firmly believe that CU Boulder is a place for everyone, and you will find your niche here at CU even if it takes some time to adjust. When in doubt, ask for help. There are so many helpful, kind and dedicated individuals here at CU all wanting you to succeed. Feel free to ask for help when you need it. I would encourage you to acknowledge that not everything will go to plan, but as long as you are open to this new experience, things will work out and you are bound to meet some incredible people along the way. Once again, I am so excited for all of you to be a Colorado Buffalo, and I look forward to seeing all of you on campus this fall! Sko buffs!
Have a great summer!