If you're one of the many students staying in town for fall break, here are a few things you can do to celebrate the upcoming holidays away from home.
---
Lean into traditions
Does your family celebrate any traditions around the holidays? For instance, you may cook a specific meal or enjoy watching holiday movies together. Lean into these traditions for inspiration or try something new. Here are a few holiday traditions you can enjoy by yourself, with friends or family: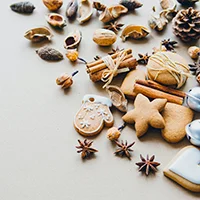 DIY cinnamon decorations
Feeling crafty? Create your own ornaments or garland! These cinnamon decorations will also warm up your home with great holiday scents.
Holiday crafts: Create homemade decorations to put up around the house. These can include paper snowflakes, origami stars or other DIY creations.
 
Movie night: Enjoy a cozy night in with hot chocolate, holiday movies and your favorite festive pajamas.
 
Turkey trot: Each year a number of cities in Colorado host turkey trot 5K and 10K races. You can run, jog or walk solo or sign up with friends to enjoy some pre-meal movement.
 
DIY ugly sweaters: Listen to holiday music and craft with friends or family to make your own ugly holiday sweaters. If your budget is tight this year, consider thrifting decorations or sweaters, or use what you already have around the house.
 
Decorate cookies. Enjoy a night decorating homemade or store-bought cookies. If your family and friends are competitive, turn it into a competition to see who has the best decorating skills. You can also ship cookies or organize a cookie exchange with friends to share the baked goodness with loved ones.
If you're spending the holidays away from family and friends this year, consider FaceTiming or calling them over Zoom to enjoy these activities together.
---
Head to the post office
If you're spending the holidays away from friends or family, consider sending postcards or handwritten notes to your loved ones by mail. If you want to send an extra special season's greetings, consider including small tokens of appreciation such as baked goods, crafts or photos in the envelope with your note. Sending letters to loved ones also provides a great opportunity to practice gratitude and reflect on how much the people in your life mean to you. Consider writing to friends or family to let them know how they've impacted your life, share a memory you cherish with them or simply let them know how you've been doing.
---
Engage in community care
While it's important to practice self-care over the holiday season, It can also be helpful to engage in community care. Unlike self-care, which focuses on how we take care of ourselves, community care emphasizes how we take care of each other. Engaging in community care helps us foster connection, support and purpose, which can improve our mental health. This can be especially helpful if you are unable to celebrate the holidays with close family or friends. 
Not sure where to start? Here are a few ways to begin practicing community care:
Host a potluck. Invite your neighbors or friends living close by to participate in a potluck by cooking their favorite dish to share with the group. This can help reduce the burden of cooking a whole holiday meal by yourself. You can also rally people to chip in for takeout if you're feeling overwhelmed by the prospect of cooking.
 
Volunteer. Giving back to the community is a great way to engage in community care. Not only will you be helping those less fortunate than yourself, but you can also create lasting connections and friendships. If you're still in Boulder, be sure to check out the Volunteer Resource Center to explore causes and upcoming opportunities.
 
Donate to local charities. If you're able to, consider donating gently used or new goods to local charities. Many organizations host holiday drives and accept a variety of donations, including coats, towels, blankets, toys and more. Consider donating to places like animal shelters, toy drives or other causes.
---
Opt outside
Don't let the cold weather stop you from venturing outside! Spending time outdoors is a great way to lift your spirits, especially if you're getting active. This can also be a great opportunity to explore hobbies or activities that you may enjoy, like snowshoeing, hiking or enjoying a quiet walk around your neighborhood. 
If you're looking for somewhere new to explore, be sure to take advantage of Fresh Air Friday. On Friday, Nov. 25 all 41 Colorado state parks are open to the public for free! This includes Eldorado Canyon State Park, which is just 15 minutes from Boulder.
---
Resources
If you or someone you know is struggling during this time, it's important to know that there are resources available to help.
The Buff Pantry is the on-campus food pantry in the UMC that is open to all campus affiliates who are experiencing food insecurity. If you're concerned about food over fall break, you can stop by once per week to receive approximately 20 pounds of food per visit before break starts. The Buff Pantry will be open the Monday of fall break for clients.
Campus Dining Services will have adjusted hours of operation over fall and winter break. You can check out which locations are open during break by visiting their website.
Health and Wellness Services wants to ensure that all students have access to the care and support services they need, wherever they are. Check out health and wellness resources that are available to in-state and out-of-state students.