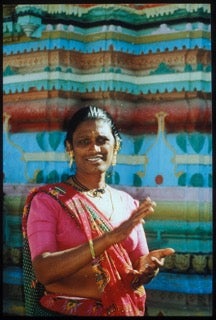 As my view of linguistic phenomena involved in the formation of subjectivity has expanded, I have turned more attention to the role of embodiment in everyday interaction. My interest in the body's potential for producing social meaning has existed since my early work with hijras, who are known throughout India for a system of handclaps that carry referential as well as indexical meaning. I discuss this system in a 2010 article Language, Embodiment, and the Third Sex, coauthored with Lal Zimman and published in Watt and Llamas's Language and Identities.
My most recent work in this area appears in Coupland's Sociolinguistics: Theoretical Debates, again coauthored with Mary Bucholtz. Our 2016 article Embodied Sociolinguistics considers how a focus on bodies broadens sociocultural linguists' understanding of the key concepts of indexicality, discourse, and agency. Mary Bucholtz and I are currently engaged in a book project to advance this idea: Parsing the Body: Language and the Social Life of Embodiment. In this volume, 35 scholars in linguistic anthropology analyze the centrality of a 'body part' (e.g., The Wrist, The Finger, The Head, The Chin) to the production, perception, and interpretation of language and social life.
A prominent example of my work in embodied sociolinguistics is my 2016 publication with Donna Goldstein and Matthew Ingram titled "The Hands of Donald Trump: Entertainment, Gesture, Spectacle." This article was published in HAU: Journal of Ethnographic Theory shortly before the November presidential election. Bringing together linguistic anthropology, cultural anthropology, and rhetorical theory, we examine the ways that Trump's unconventional political style, particularly his use of gesture to critique the political system and caricature his opponents, brought momentum to his campaign by creating spectacle. More information regarding our findings can be heard in my 2016 interview with Nathan Heffel of Colorado Public Radio, which aired ten days after the election.