Phoenix Dropsetter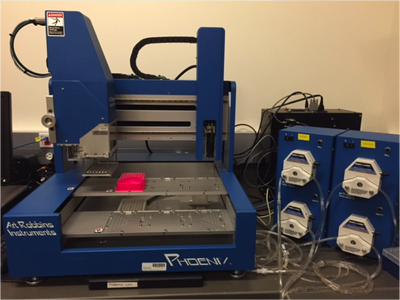 For setting up crystallizations in multi-well plates; minimum drop size, 100 nanoliter.
Formulatrix Rock Imager
Crystallization imagers are installed at 20 °C and 4 °C for imaging crystals in 96-well plates.
Stereo  Microscopes
We have several manual microscopes installed in all  crystallization rooms, including the depicted SZX 10 Olympus microscope equipt with a Lumen 200 Fluorescence Illumination System.
Temperature-Controlled Walk-In Crystallization Rooms
We have 3 temperature contolled walk-in crystallization rooms at 4, 20 and 30 oC with shelf space for hundreds of crystallization trays. Microscopes are installed in all rooms to facilitate easy Xtal monitoring and Xtal fishing without temperature changes or unnessesary transfer of plates between differnet rooms. In addition we have one 12oC and one 16 oC degree crystallization incubator.