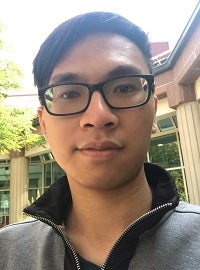 CU Boulder Environmental Engineering Graduate Associate Duong Nguyen was recently chosen for the prestigious 2020 American Membrane Technology Association (AMTA) and Bureau of Reclamation Fellowship for Membrane Technology.  
Nguyen is studying ultra-selective air-gap reverse osmosis distillation membranes for desalination, water reuse, and resource recovery under the guidance of Assistant Professor Anthony Straub. Nguyen earned an MS in environmental engineering from Arizona State University and a BS in environmental science from Vietnam National University. 
"It is a great honor to be a recipient of the 2020 AMTA/Reclamation fellowship. I would like to send my special thanks to my advisor,  Dr. Tony Straub, and other great professors in our Environmental Engineering Program for their kind guidance and mentorship. I also appreciate the help of my friends and colleagues at CU Boulder. The award will allow me to advance further membrane technologies for desalination and water reuse and support my future career as a water researcher," said Nguyen.
Nguyen is developing a new distillation-based reverse osmosis process using hydrophobic membranes that has the potential to reduce cost and energy demand for desalination and water reuse while creating new opportunities for recovery of volatile solutes.
"Duong has achieved remarkable progress on his research to create new membrane-based processes for water and wastewater treatment. Through his passion for improving water quality and hard work ethic, Duong exemplifies the characteristics of an environmental engineer and scientist and is poised to make great contributions to environmental research," said  Straub.
AMTA and the Bureau of Reclamation are partnering to support graduate student fellowships that aid in the advancements needed to pursue innovation in membrane technology in the water, wastewater or water reuse industries.