Thank you for attending the 2019 Teachers of Color and Allies (TOCA) Summit 
Thursday, Nov. 21, 8 a.m. - 4 p.m.
Williams Village Conference Center, University of Colorado Boulder
#TOCA19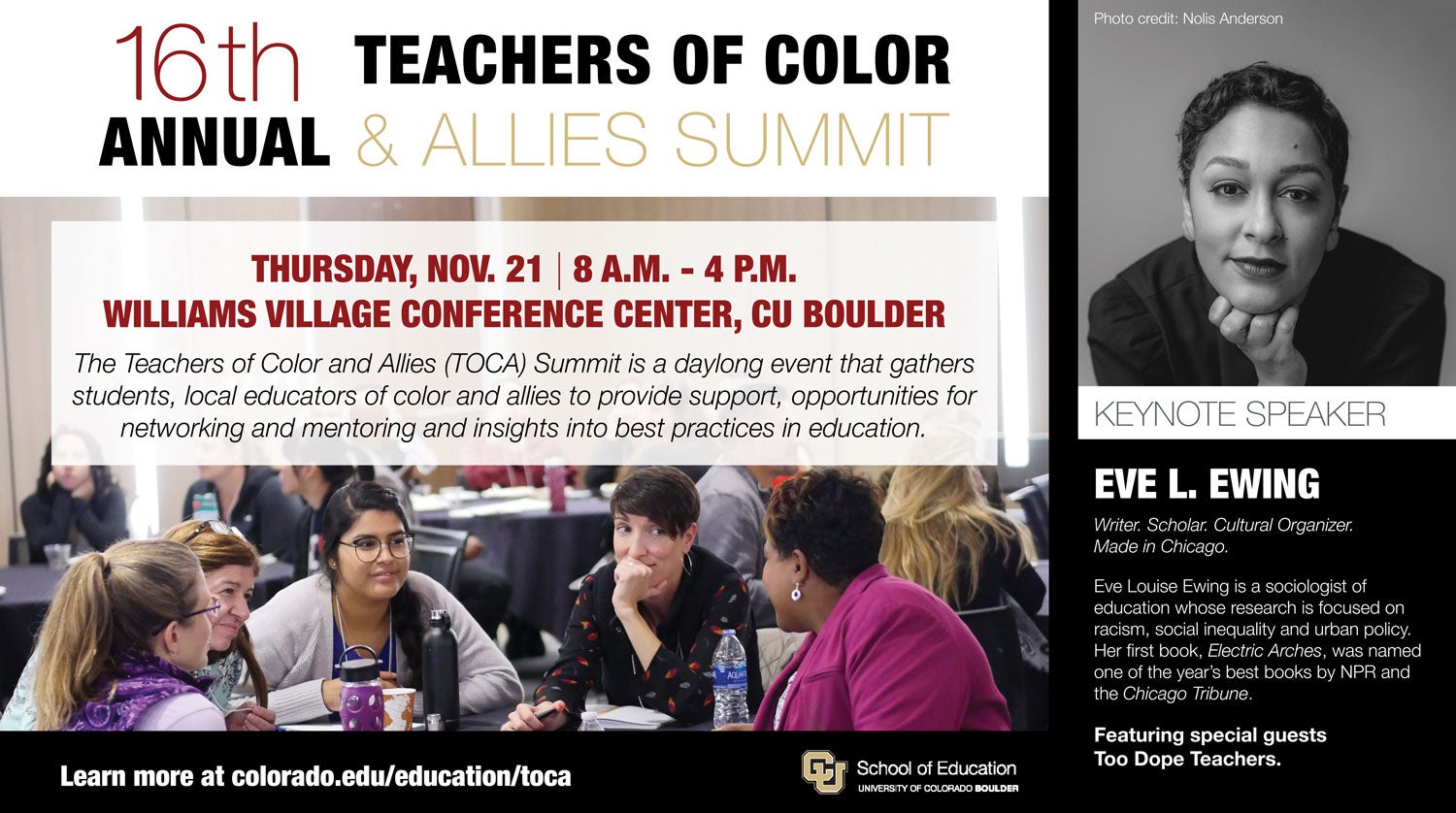 2019 Keynote
Keynote speaker Eve Louise Ewing is a sociologist of education and a writer from Chicago. She is the author, most recently, of the poetry collection 1919 and the nonfiction work Ghosts in the Schoolyard: Racism and School Closings on Chicago's South Side. Her first book, the poetry collection Electric Arches, received awards from the American Library Association and the Poetry Society of America and was named one of the year's best books by NPR and the Chicago Tribune. She is the co-author (with Nate Marshall) of the play No Blue Memories: The Life of Gwendolyn Brooks. She also writes the Ironheart series as well as other projects for Marvel Comics. Ewing is an assistant professor at the University of Chicago School of Social Service Administration. Her work has been published in The New Yorker, The Atlantic, The New York Times, and many other venues. 
Also featuring a special lunchtime plenary session hosted by Too Dope Teachers.
About TOCA
Launched in 2003, the Teachers of Color and Allies (TOCA) Summit is a daylong event that gathers local educators of color, administrators, equity scholars and allies to provide collegial support, opportunities for networking and mentoring, and insights into best practices in education. Hosted by the School of Education in partnership with local school districts, the summit is held every fall. 
The 2019 TOCA Summit is supported by a grant from the CU Boulder Office for Outreach and Engagement.
Key Benefits: 
Connection with educators of color and allies
Conversations about current research and teaching practices
Free registration
Meals provided
Hands-on breakout sessions for educators, administrators, students and community members
Four clock hours of continuing education
Districts send 5-10 teacher-leaders and administrators and subsidize the cost for substitutes for the day. Registration is first come, first-served.
View photos from the 2018 Teachers of Color and Allies (TOCA) Summit