Friday, February 10, 2017, 8:30am to 4:30pm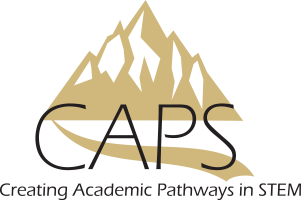 Join us for the 1st Statewide CAPS Summit at the University of Colorado Boulder. Faculty, staff, and administrators from all Colorado institutions are invited to attend this summit. This collaborative event is an opportunity for stakeholders from two- and four-year colleges to connect regarding transfer pathways.
CAPS is a new statewide effort to increase the number of talented community college students who transfer into Colorado's 4-year institutions and earn STEM degrees.  With seed funding from the NSF, this initiative seeks to:
        •  increase access to STEM higher education for traditionally underrepresented students
        •  help prepare an untapped talent pool for Colorado's workforce of tomorrow
        •  obtain robust funding to support economically disadvantaged students
        •  bring about transformational institutional change in transfer pathways and student success to benefit Colorado's students, educational institutions, and industry partners
Registration CLOSED for the Statewide CAPS Summit at CU Boulder
Please have registered online by February 3rd and felt free to forward this information to your colleagues.
If you need additional information, please contact the CU Boulder CAPS Director Janet Yowell or 303-524-4545