​"Walking While Black" wins the "Nak"
In Jacksonville, Florida, hundreds of small, seemingly insignificant pedestrian citations added up to a widespread case of racial profiling, according to investigative reporting by a team of journalists from ProPublica and the Florida Times-Union. 
The journalists' story, "Walking While Black," is a five-year analysis of citations issued by the Jacksonville Sheriff's Office. Reporters found that the tickets—for violations including jaywalking, failing to cross the street at a right angle, crossing against a yellow light and more—were disproportionately issued to black pedestrians. The story is the winner of the 2018 Al Nakkula Award for Police Reporting, sponsored by the College of Media, Communication and Information. Judges in the competition applauded the use of traditional, data and multimedia journalism to uncover a slew of injustices that might have easily gone unnoticed.
"One of the most important aspects of 'Walking While Black' is that the team showed jaywalking tickets resulted in a legal chain reaction of mounting fines, failure to appear in court violations and legal woes that prevented the recipients from getting housing, jobs and other basic needs for their livelihood," says Angie Chuang, an associate professor in the Department of Journalism at CU Boulder who was one of the competition's three judges. "So, a 'minor' violation became much more than that when disproportionate enforcement and a punitive legal system were levied against an already marginalized population."
Read more on "Walking While Black" and runner-up stories in the competition.
---
Programmatic course gives ad students an advantage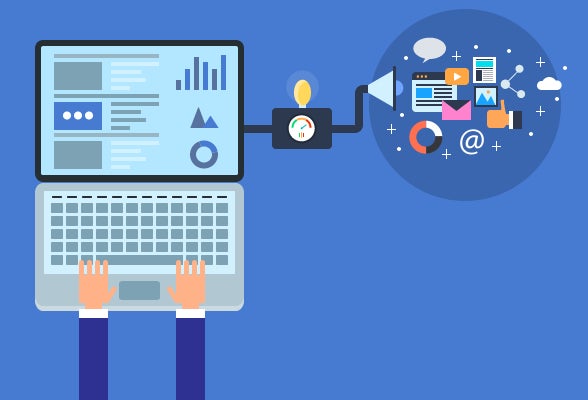 Savvy advertising students know that dedication and innovation make all the difference.
Recently, more than 20 students from the College of Media, Communication and Information spent their weekend in a one-credit course on programmatic advertising, learning about the automation of buying and selling of ads that is revolutionizing the industry. The idea for the course developed after alumna Heather Prince (Jour'04) visited campus last spring as a guest speaker and introduced advertising students to the basic concepts of programmatic advertising. The topic spurred so much interest that Gangadharbatla invited Prince—a founding member of Cadreon—to return with Pablito Padua, Tyler Guthrie and Justin Phalichanh from the company to teach students more on the topic.
"The ad program at CU Boulder is unique and nimble in that it gives students opportunities to get ahead of the curve and experiment with new technologies," says Harsha Gangadharbatla, founding chair of the Department of Advertising, Public Relations and Media Design.
Read more on the programmatic advertising course.
---
Celebrating International Women's Day on Wikipedia 
Since launching in 2001, Wikipedia has served as a staple for people looking for information and citations on almost any subject. The site boasts in-depth pages for topics ranging from "List of Animals With Fraudulent Diplomas" to "The Age of Reason." One area where the site is lacking, however, is in its representation of women throughout history.
In an effort to increase these representations, instructors, students and staff at CU Boulder celebrated this year's International Women's Day by participating in an Art+Feminism Wikipedia Edit-a-thon. The event was co-hosted by Intermedia Art, Writing and Performance doctoral student Maya Livio and CU Boulder Art and Architecture Librarian Alex Watkins. Working amid stacks of books on historic women in the arts and humanities, Livio and Watkins helped volunteers to update, improve and create pages about female artists on the site.
"Wikipedia, at this point, replaces most people's encyclopedias," Livio says. "It's an important repository of knowledge, and like other repositories of knowledge women have historically been excluded. And women have been underrepresented in the art world, as well."
Art+Feminism is an international campaign, which began five years ago. This is the third session of its type hosted at CU Boulder.