Paul Delbert "Del" Brinkman, a longtime journalism educator and former dean of the CU Boulder School of Journalism and Mass Communication, died Sunday, Feb. 19, in Overland Park, Kansas. He was 86.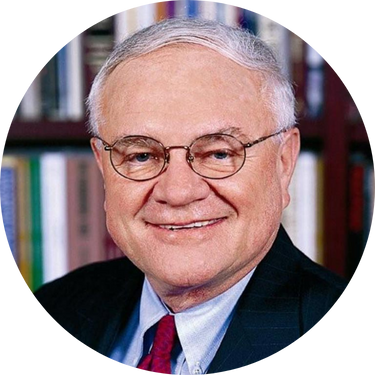 Brinkman was born Feb. 10, 1937, in Olpe, Kansas. He developed an interest in journalism at an early age and started working for The Emporia Gazette while attending Emporia State University.
Over the next 48 years, he dedicated his career to education and journalism. He first taught English and journalism at Leavenworth (Kansas) High School. After attending Indiana University in Bloomington for a master's degree in journalism and doctorate in mass communication, he was on the journalism faculty at Kansas State University and then the University of Kansas, where he also served first as dean and then vice chancellor for academic affairs. 
In the late 1990s, Lori Bergen, who would later become the founding dean of CU Boulder's College of Media, Communication and Information in 2015, was a journalism professor at Kansas State while Brinkman was still at the University of Kansas.
"Whenever there were events around journalism that brought the two schools together, he would always seek me out and ask about my work," Bergen said. "He was genuinely interested in the success of other people."
She added that, in many ways, she's followed in his footsteps.
"We were both born in small Kansas towns, earned our PhDs from Indiana University, were on the faculty at Kansas State University, and then, of course, were deans at CU Boulder," she said. "I have admired and respected Del for many years."
In retirement, Del Brinkman remained active in numerous professional and civic organizations, including serving on the CU Boulder journalism advisory board.
Left to right: Emeritus Professor Stewart Hoover, former SJMC Dean Paul Voakes, former SJMC Dean Del Brinkman
Brinkman assumed the position of dean of CU Boulder's School of Journalism and Mass Communication (SJMC) on Jan. 1, 2001, after serving as director of journalism programs at the John S. and James L. Knight Foundation.
When Brinkman's time at CU Boulder was cut short due to health and family considerations in 2002, he talked Paul Voakes, founding chair of CMCI's Department of Journalism and former dean of SJMC, into applying for the job.
"Del was a mentor to me as I began my administrative work at CU and was extraordinarily generous with his time," Voakes said. "He advised a calm and measured approach, and his observations were always honest and laced with gentle humor. Above all, he offered common sense." 
Brinkman's record of offering sound advice is a common theme, and soon after he retired, he delivered the May 2002 SJMC commencement speech.
"Graduates, allow me to leave you with some suggestions for the future," Brinkman said. "They could be called the six G's of life."
He then advised graduating students that a person who is great and good, grateful and gracious, generous and glad is likely to live a happy, successful life.
By all accounts, Brinkman took his own advice to heart.