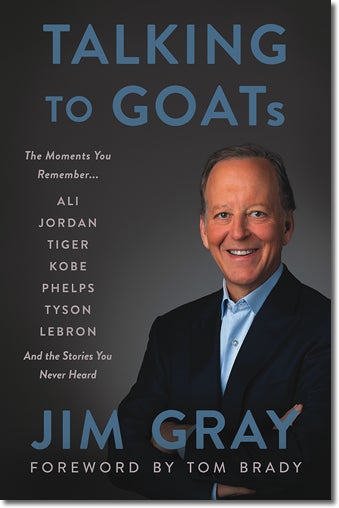 After entering sports media more than 40 years ago, Jim Gray (Advert'81) has made his mark in the industry as an influential sportscaster, earning him this year's George Norlin Award, a prestigious honor bestowed by CU Boulder to outstanding alumni who have demonstrated a commitment to excellence in their chosen field and a devotion to the betterment of society. 
"Jim Gray is a legendary figure in sports broadcasting," said Lori Bergen, dean of the College of Media, Communication and Information. "He has been trusted by countless iconic athletes to tell their stories—of both triumph and disgrace—and Gray has had unprecedented access to the biggest names, events and moments in the last four decades of sports."
The George Norlin Award, which will be given to Gray Nov. 4, is the highest award bestowed by CU Boulder. It adds to Gray's 12 Emmy awards he's received throughout his career, recognizing his outstanding work and powerful interviews with sports icons like Tom Brady, Muhammad Ali, Kobe Bryant, LeBron James and Michael Jordan. 
Gray recently reflected on his career and highlights from these interviews in his 2020 book, Talking to GOATs: The Moments You Remember and the Stories You Never Heard. As a dedicated member of the CU community, Gray did a virtual reading and discussion of his book with CMCI students, sharing his expertise with aspiring sportscasters of the upcoming generation. 
This year, in addition to receiving the award, Gray was featured in the documentary series Mike Tyson: The Knockout and contributed to Fox Sports' coverage of the Tokyo Olympics, continuing his decades-long trend of connecting audiences to the sports world.