By Fran Huth
Sophomore, Department of Journalism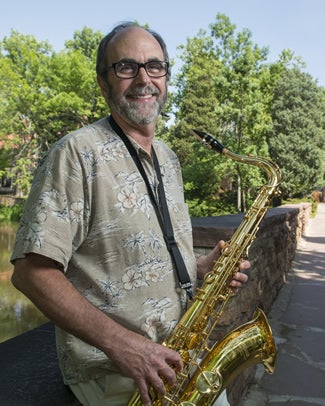 When Paul Voakes began teaching journalism, students hoped for careers at newspapers or TV stations. Today, however, they might become multimedia reporters, digital editors or social media commentators.
"All it takes is a smartphone, and you can do the work of journalism," Voakes says.
Through two decades of dramatic change in media, Voakes has helped students and journalists explore new directions in journalism. During his 14 years at CU, he has served as professor and dean of the School of Journalism and Mass Communication, and guided the Department of Journalism's reinvention as part of the new College of Media, Communication and Information (CMCI).  Upon his retirement in December, he was unanimously voted into emeritus status by the Department of Journalism faculty.  
Voakes' success in navigating media transitions is rooted in his "tremendous background and experience" as both "a professional journalist and a scholar of journalism ethics," says Lori Bergen, founding dean of CMCI.
After earning a master's degree at the University of California, Berkeley, Voakes worked for newspapers in the Bay Area for 15 years. He later earned his doctorate at the University of Wisconsin, then taught at Indiana University for nearly a decade. In 2003, he joined CU as dean of the School of Journalism and Mass Communication.
During Voakes' deanship, digital innovations including social media, multimedia storytelling and online advertising rapidly transformed the practice of journalism. By 2015, it was clear that new approaches to media education were necessary. That year, the university shuttered the School of Journalism and Mass Communication to make way for CMCI.
"I am the dean who had to turn the lights out on the final day," Voakes recalls.
During a time of "a lot of upset and confusion," Voakes helped steady the Department of Journalism as it adapted to change. Today, he says, "things are going better than we had even hoped."
Voakes' work on 21st century media extends far beyond campus. He just completed a term as president of the Association for Education in Journalism and Mass Communication; his research has appeared in top academic journals; and his co-authored book, The American Journalist in the 21st Century, won the 2007 Book Award from the Society of Professional Journalists.
Despite the national impact of his work, Voakes remains firmly rooted in the Boulder community, where he and his wife, Barbara, enjoy hosting their three grown children and three granddaughters.
 "He does volunteer work with the homeless that not many people know about," says Elizabeth Skewes, chair of the Department of Journalism. He is also dedicated to bringing "more diverse students to CU, particularly those from lower-income families," she adds.
Voakes, a jazz fan, intends to engage in the community in new ways after retirement—he's practicing his saxophone and hopes to join a choir.
Still, he's not laying down his red pencil just yet. He's at work on a new book, and assisting the national accrediting body for journalism schools, evaluating how colleges around the country teach journalism today.
"Media has encountered tremendous upheaval in the past decade," he says. His continued engagement will help ensure that journalism students, and journalism itself, continue to thrive in the digital age.  
Last fall, members of the Journalism Department Advisory Board donated to establish a scholarship in Voakes' honor, which will benefit first-generation college students. Add your tribute gift »