The Need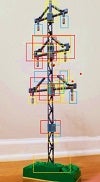 The engineering and construction workforce demand is outpacing the availability of new talent. The latest AGC-Autodesk survey points to this workforce shortage as a cause of project delays and even cancellations. Current outreach efforts are labor intensive and do not leverage available technology. Recruitment methods must change and scale to meet our demands.  
The National Academy of Construction can lead a novel approach to recruiting the next-generation workforce by developing AI-based construction challenges and partnering with industry organizations to reach students at scale and inspire them into a rewarding career.
The Opportunity
The use of phones and tablets, coupled with the growing power of AI, provide an opportunity to reach K-12 students at a large scale with innovative challenges that can inspire them towards a career in the design and construction field. The immediate opportunity involves:
Hands-on activities to engage students to the architecture, engineering, and construction (AEC) industry and inspire their interest in the STEM careers.
Structured exercises can promote STEM learning principles while introducing students to the AEC industry.
Use of phones, tablets, cameras, and the internet to independently interact with construction engineering challenges.
Exposure to a variety of AEC roles, engaging students in critical thinking and problem solving
Approach and Activity
Create a series of interactive construction engineering challenges that promote interest and growth with an interdisciplinary team of researchers and developers.
Develop Lego exercises with inherent flaws that can be detected through AI.
Develop a mobile app to support the construction challenge.
Measures of Success
Complete first exercise for distributions to 3,000 K-12 students by Nov 2022
A goal of 10,000 K-12 students per year by the third year.
Creation of an online community of K-12 students interested in STEM careers through the construction challenge. 
Contact Information
Please feel free to reach out to our team by contacting Keith Molenaar at keith.molenaar@colorado.edu
Visit us at https://www.colorado.edu/cem/Construction-Challenge