Updates from the Program for Teaching East Asia
Program for Teaching East Asia Grant: Builds US-Japan Elementary School Partnerships
With a grant from the Japan Foundation Center for Global Partnership (CGP), the Program for Teaching East Asia (TEA) is conducting a two-year project focused on building Japan-U.S. elementary school partnerships, drawing on opportunities provided by the 2020 Tokyo Olympics. Olympic Friendships: Elementary Education for Global Competency in Japan and the United States is designed to enhance participating US schools' units of study about Japan and global competency education. At the same time, it supports a Tokyo Board of Education 2020 Tokyo Olympic/Paralympic Games "Global Friendship Project" education initiative. The project is directed at TEA by Catherine Ishida. TEA's collaborating partner on-site in Tokyo is the University of Tokyo Center for Advanced School Education and Evidence-Based Research.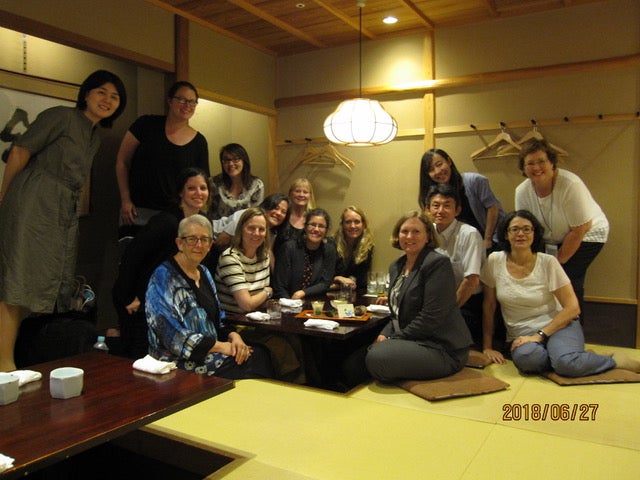 At the outset of the project in fall 2017, TEA selected six elementary schools from Midwestern and Western states to establish and sustain a sister-school relationship with an elementary school in Tokyo. The schools were selected based on their demonstrated commitment to teacher professional development, cross-cultural school partnership, teaching about Japan, 21st-century skills, and global competency education. From these six schools, 11 teachers were then selected to participate in a seminar in Tokyo in June. In preparation for study in Tokyo, the teachers completed a spring 2018 online course to enhance their knowledge of and teaching about Japanese history, geography, belief systems and cultural norms, and the education system. 
While in Tokyo, the 11 US teachers visited their partner schools, getting to know faculty and students by observing classes and teaching a lesson to introduce themselves, their schools and communities. The teachers highly valued the opportunity to observe the subject of Tokubetsu Katsudō (Special Activities) in which Japanese elementary students serve lunch, lead class meetings, clean the school, and participate in clubs, and to speak with a scholar on the subject, University of Tokyo professor, Ryoko Tsuneyoshi. The American teachers also observed a "lesson study," a common form of Japanese teacher professional development gaining international recognition. When not at elementary schools, the teachers explored sites in Tokyo featured in a set of children's literature about Tokyo provided to each school by the project.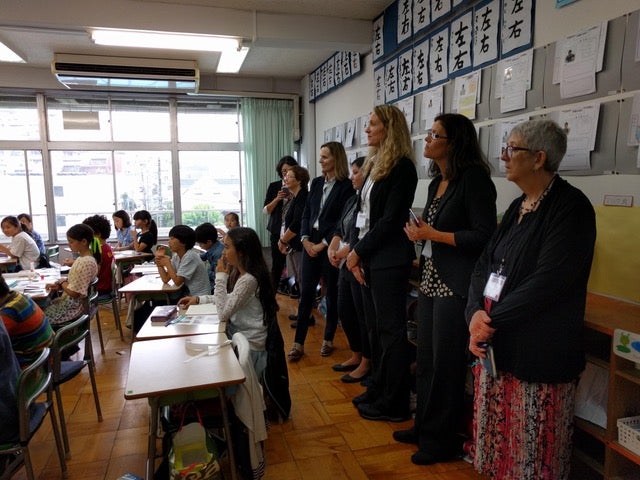 Since meeting in person last summer, several of the Tokyo schools have shared photos and information with their US counterparts about their school anniversaries. American students have responded to questions from partner classrooms in Tokyo and sent video pen-pal introductions. One US classroom created daruma dolls for athletes participating in 2020 Olympic swim trials to teach the athletes about Japanese culture in preparation for their potential visits to Tokyo in 2020. US teachers have presented their new insights about Japan with their school communities and have developed lessons to explore Japan through art, language arts, science, and social studies.
Lynn Parisi, Director, Program for Teaching East Asia
---
News from AATJ (American Association of Teachers of Japanese)
2018 ended with two major projects that showcased Japanese language teachers and learners in the United States.
The Japanese Language Proficiency Test (JLPT), which is taken worldwide by tens of thousands of Japanese learners, was administered to almost 7,000 test-takers at 18 test sites around the US (including right here at CU). The test is administered in the US by AATJ, and the big day was Sunday, December 2. Dozens of volunteers give their time at the sites to make sure that this important test goes smoothly; thanks to all of them for their hard work!
On the more lighthearted side, students around the country were working on their New Year's Cards (nengajo in Japanese). In Asia each year is represented by one of 12 animals, and 2019 is the Year of the Boar. Please enjoy one of the winners of this year's contest.
AATJ also organizes two conferences annually for members and other Japanese professionals; manages an online National Japanese Exam taken by several thousand K-12 learners; and publishes four newsletters and two issues of the journal Japanese Language and Literature (which in 2019 becomes an Open Access journal published free online for all to read).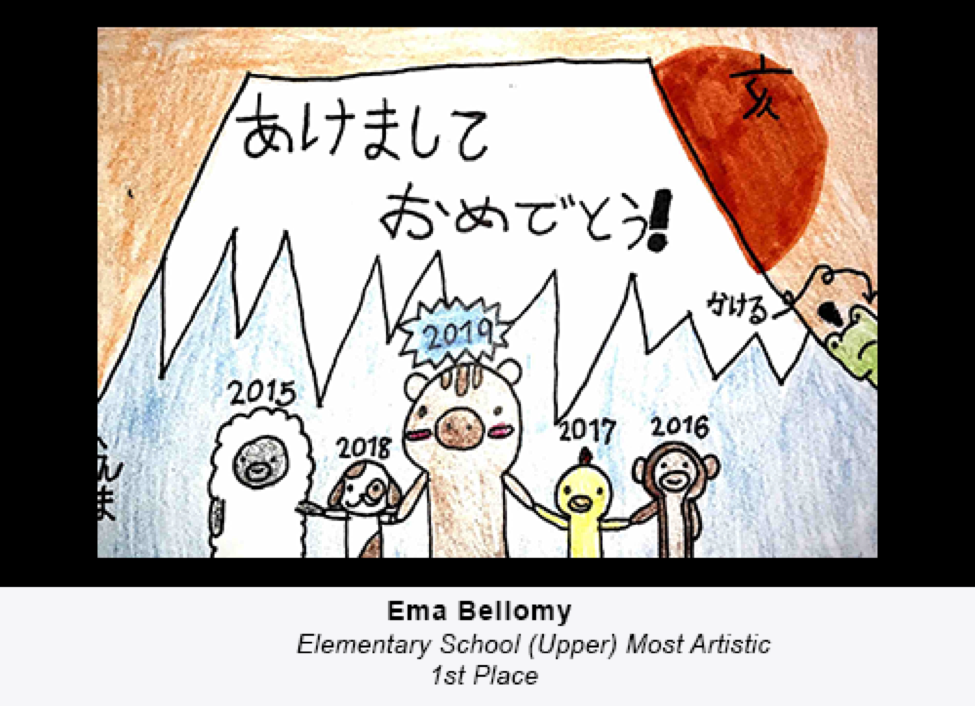 Learn more about AATJ and its many projects supporting 1,500 teachers of Japanese at all levels and (through them) many thousands of students at http://www.aatj.org.
Susan Schmidt, Executive Director, AATJ
---
First Lotsawa Translation Workshop at CU Boulder
In October, the Tibet Himalaya Initiative hosted the first Lotsawa Translation Workshop at CU Boulder. The workshop drew fifty-five scholars and translators from around the globe to join together in dialogue about the translation of Tibetan verse with respect to the dynamics of Buddhist devotion. 
Building on Tsadra's series of Translation and Transmission conferences in 2014 and 2017, the innovation of the Lotsawa Workshop is its model of workshopping translations-in-process, which emerged as an inspiration between co-organizers Holly Gayley (CU Boulder) and Dominique Townsend (Bard College). In small groups of eight, junior translators, graduate students, and early-career faculty were paired with seasoned translators and senior faculty to workshop translations-in-progress of various devotional songs and other similarly inspiring verse. 
A participant survey after the event cited an "amazing supportive scholarly atmosphere" and the "joy and laughter with which we all approached this privileged task of rendering great Tibetan literary works into English." Many cited the workshop groups in the afternoon as the most productive part of the weekend: "a rare and much appreciated opportunity to think through translation with a group of interested colleagues" and "a highlight in what was overall an unforgettably rewarding workshop." 
In addition to the workshops, the long weekend featured panels on "The Dynamics of Devotion" and "Reflections on the Translation Process" as well as daily breakout sessions. Distinguished scholars served as keynotes, including Janet Gyatso (Harvard), Kurtis Schaeffer (Virginia), and Lama Jabb (Oxford). A Translation/Poetry Slam at Innisfree Poetry Bookstore and Cafe encouraged lively performances by a dozen Lotsawa presenters and participants.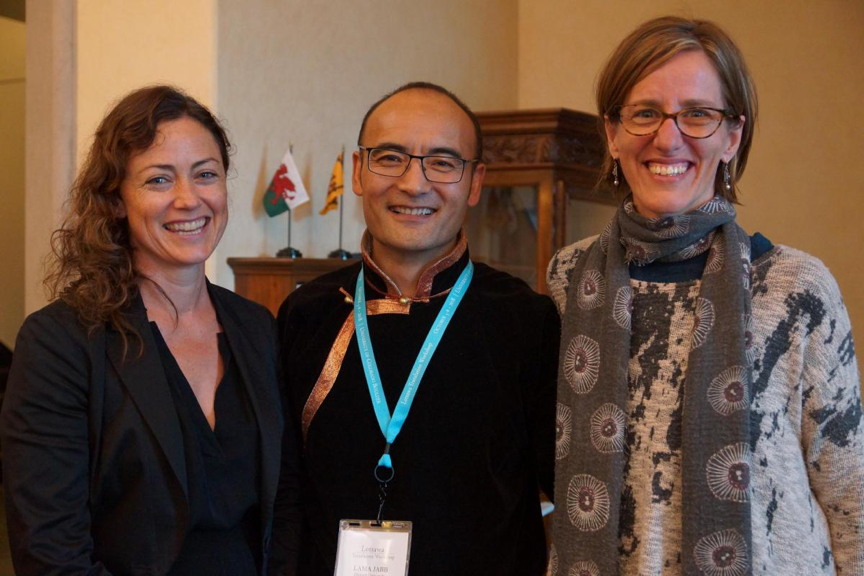 The Tibet Himalaya Initiative is honored to have facilitated such a successful and impactful event. Our appreciation extends to the Tsadra Foundation and Chancellor Philip DiStefano for making this event possible through their generous support. Thanks also to the outstanding team at the Center for Asian Studies for their administrative help and to Religious Studies MA student, Joshua Shelton, for his exertion and enthusiasm in managing so many of the logistics and communications for the workshop.