The Qi Shu Fang Peking Opera Company completed their week-long residency at CU-Boulder (9/3 to 9/8), with resounding succees.  About 120 attended the two screenings of the documentary film, "Little Tiger."  Ms. Qi Shu Fang and Mr. Ding Mei Kui conducted a two-hour-long acting workshop with the 22 students in THTR4061 Directing class where they shared stories of their own learning experiences and demonstrated some opera techniques such as water sleeves, ribbon dance, and character walks.  For their make-up workshop/demonstration, the 15 students/faculty/guests were completely mesmerized by the efficacy and details of the their mastery.  At the combat workshop, the 14 participants (including one from Naropa College) learned a spear duet routine, a bare fist routine, and some basic fundamentals including fly kicks for the boys and fanshen for the girls.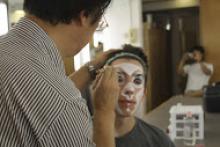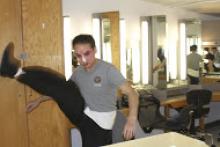 Their performance on Sunday (9/8) at the University Theatre was simply electric. Full house, with 396 people in attendance in a 400-seat house, ages ranging from 3 to 72 with lots of wild-eyed children! Two full standing ovations. The audience took photos, video, and lots of shouting "hao" (bravo in Chinese) to indicate their enthusiasm. The audience was completely captivated by the dazzling combat, the spectacular face-mask changing, and Ms. Qi's singing.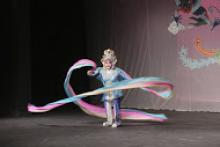 The Qi Shu Fang Peking Opera provided the students of CU and Boulder community access to a cultural art form unlike we typically see here in the United States. The visual spectacle of colorful costumes, whimsical stage make-up, and hand-painted drop-curtain engaged the audience. The guest artists exposed students to a new art form and culture with their performance and with their individual encounters during their week-long residency. Theater students at CU, especially, found their understanding and appreciation for the definition of theater broadened and enlightened. But the general audience, many of them children, were equally awed by the spectacular combat, the phenomenal face mask changing.