The CU Center for Asian Studies, in collaboration with the department of Asian Languages and Civilizations (ALC) and the Anderson Language Technology Center (ALTEC), successfully concluded its first Hindi-Urdu STARTALK language program. "STARTALK: Jai Ho Hindi-Urdu Student Language Program" was an intensive, five week non-residential program for students entering grades 9 to 12 which ran from June 4-July 6. The first three weeks of face-to-face sessions were held at the University of Colorado Boulder and two following weeks of virtual immersion sessions were conducted online. Sixteen student participants came from various schools in the Colorado Front Range area including Fort Collins High, Green Mountain High in Lakewood, George Washington High in Denver, and Niwot High, Boulder High, and Fairview High in Boulder.
This program was generously funded by STARTALK, a nationwide initiative sponsored by the National Security Language Initiative (NSLI). According to the program's external reviewers, Dr. Gabriela Ilieva and Ms. Gautami Shah, the CAS program was "exemplary in its effort to prepare high school students for real life communication and to provide students with virtual immersion opportunities to interact with native speakers." The curriculum was designed as an intensive introduction to Hindi and Urdu, as well as the diverse and shared culture and history of India and Pakistan.
The core instructional team included Laura Brueck, Assistant Professor of Hindi in the department of Asian Languages and Civilizations; Kusum Knapczyk, PhD., a former STARTALK fellow; Ms. Indira Walia, a secondary school teacher; and Mark Knowles and Edwige Simon of ALTEC. Rubi Sanchez, a graduate assistant and Sarah Dean, an undergraduate assistant, provided much needed support for the instructional team. Laurel Rasplica Rodd, the director of CAS, was the primary investigator on the program. Joanne Sakaguchi of CAS provided administrative support and Kunga Lama, outreach coordinator at CAS, directed the program.
One of the student participants wrote about the program, "I recently looked back at my application essay for this program, and reviewed my expectations and goals from the program.  Every single expectation and goal that I had in mind was met.  This program was just what I had wanted it to be!" The quality of the students, their thirst for language learning, and the hard work and dedication of the instructional team resulted in impressive student progress. In three weeks they were ready and prepared to communicate with native speakers in India. Going forward, we are planning to provide both novice high and intermediate levels of instruction to accom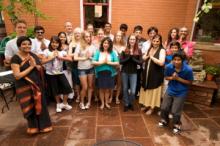 modate both beginners and those who will be returning to the program. With the help of our first batch of students and further recruitment we hope to attract even more students next year.
For more information about other programming in our South, Southeast, and West Asia outreach program, please visit the SSEWA website. Check back next spring for details about the summer 2013 Hindi program!
Posting authored by Kunga Lama, SSEWA outreach coordinator.