Wednesdays at 9:00-10:00 am MST  via Zoom
All talks are open to all. Please come! 
Register
 
New this fall!  Directed by assistant professor Laura Devendorf, the Unstable Design Lab at the ATLAS Institute presents the Experimental Weaving Talk Series, a conversation with fiber artists, researchers, and designers who explore and push the boundaries of woven and soft structures. Join us as we invite a few of the weavers we admire to describe their approach to weaving and experimentation. All talks will be hosted via Zoom. Use the registration link to register for any/all of the talks.   
I'm a student, why should I care about weaving?
You may be asking yourself what does a student in creative technology and design get from attending lectures from weavers? There are many answers to this question that span both functional and critical concerns. From a functional perspective, weaving can be used as a way to make soft mechanical systems, allows for the integration of electronics, and is a rapidly growing area of research within domains of interaction, design, fabrication, robotics, and so on. The notation systems used for weaving are considered the first forms of programming, as the codes and patterns developed for weaving notation have directly influenced the current forms of programming: weaving is programming with materials and looking into the histories and practices of weaving can help inspire new concepts and approaches to computation and design. 

09.14
Melanie Olde
Melanie's weaving practice investigates shape changing and multi-dimensional structures. Her work highlights resonances between weaving and robotics and demonstrates how weaving can be used to make three dimensional and shape changing objects structures. 
Bio:  Melanie Olde is a weaver, researcher, teacher and artist. She researches cellular structures for form, function and array to interpret these in biomimetic, moving, woven 3-dimensional cloth to advance innovative exploration. Olde works on an AVL 24 shaft CompuDobby Loom in Canberra, Australia and has also worked with mechanical and computerized jacquard systems. https://www.melanieolde.com/, @melanie_olde
Register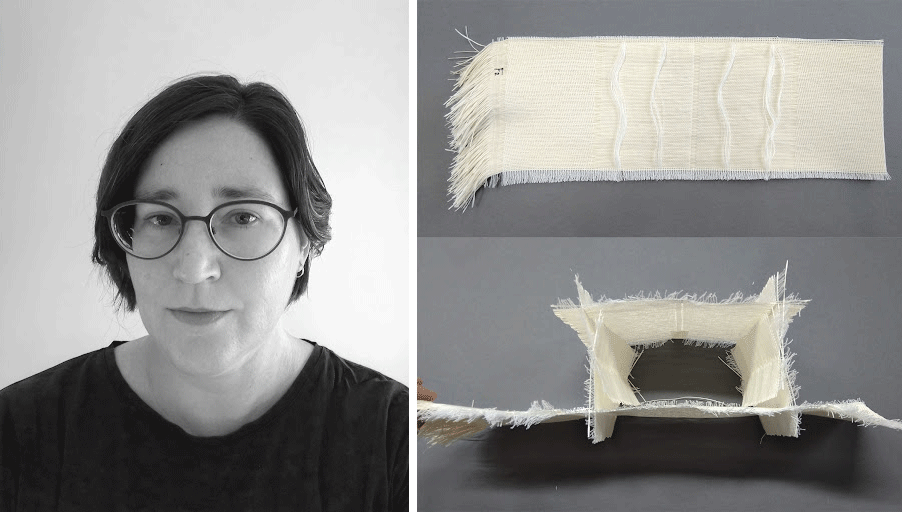 09.28
Kathryn Walters
Kathryn's weaving practice is research based and looks to push the limits of dimensionality and shape. Working primarily with industrial jacquard looms, Kathryn has worked on projects producing zero-waste garments and textiles that can transform between 2 and 3 dimensions.   
Bio: Kathryn Walters is a PhD researcher in Textile Design at the Swedish School of Textiles. Her research investigates transformative textiles developing three-dimensional form. She explores emergent behaviour arising from the combination of material properties and textile structures, where textiles are seen as systems with responsive properties. Her process embraces the use of industrial jacquard looms as an extension of weaving as craft. https://www.kmwalters.com/
Register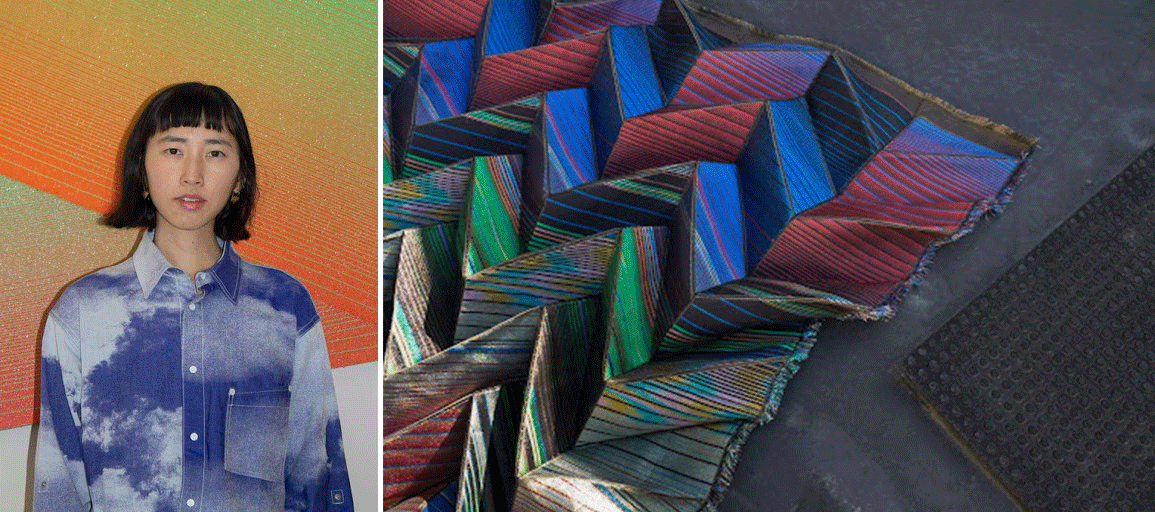 10.19
Jessy Lu
Jessy's weaving practice expertly plays with structure, color, and form using some of the oldest and historically rich weaving techniques. Working across concept and form, Lu's practice simultaneously brings material practice,history and theory into conversation. 
Bio:  Jessy Lu examines the relationship between textiles, computation, and femininity. While graphical user interfaces obscure our understanding of an underlying technology and mathematical models run our economy, Lu's textiles work is an act of primitive code. With strictly binary inputs, the textile functions purely as a computational byproduct, which endows the user with agency through its creation. http://jessylu.com/, @lu_jue
Register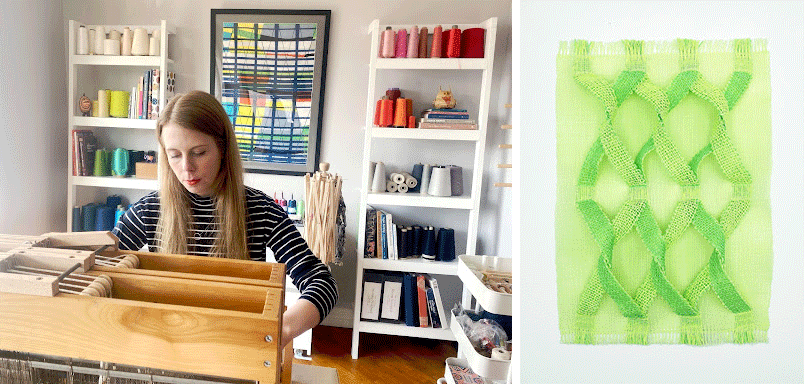 10.26
Alyson Ainsworth
Alyson's weaving practice playfully uses multiple materials, from paper to wire, to produce textiles with rich surface textures. Her work demonstrates unique forms that emerge from working between hand and machine and in conversation with a wide range of materials. 
Bio: Alyson Ainsworth is a New York City-based weaver whose work explores overcoming traditional limitations of the loom. Through the use of materials, hand manipulations, and complex weave structure, she creates weavings that combine new techniques with the familiar. She is interested in pushing the boundaries of weaving as a discipline—from both art and design perspectives—and exploring the connection of functional and aesthetic textiles in the process.  https://alysonainsworth.com/, @alysonainsworth
Register
 

11.09
Victoria Manganiello
Victoria's weaving practice explores both woven structure, function, as well as the process of spinning of dying give rise to new forms of communication. She uses a wide range of materials in her work, from pneumatic tubing to fiber optics, and she regularly collaborates with scientists and engineers. These collaborations have given rise to weavings that represent new possibilities for interactive technology.  
Bio: Victoria Manganiello considers weaving a form of communication. Her ethereal fabric pieces radiate color and light while referencing computer programming and bar codes. Manganiello is currently producing a documentary film about Women and Textiles and is an instructor at NYU and the Parsons School of the Arts in New York. Her textile-based installations combine hand-spun yarns and hand-mixed dyes with modern materials and techniques, creating conceptual hybrids that lean towards the future while employing methods from the past. https://www.victoriamanganiello.com/,  @victoriamanganiello
Register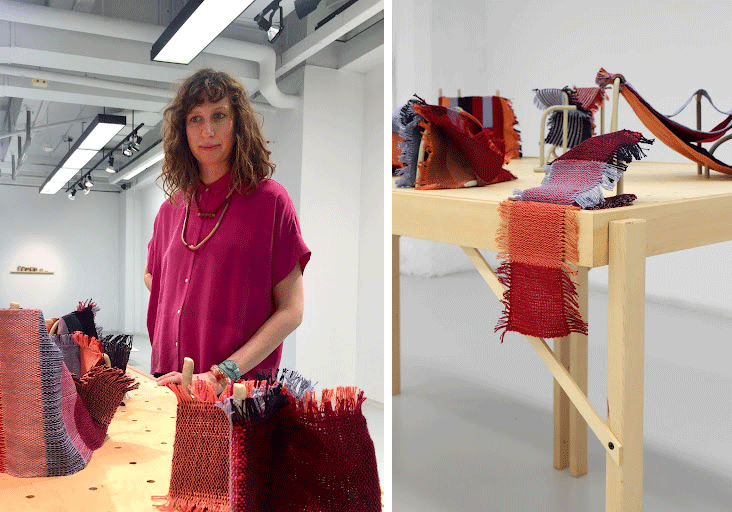 11.30
Etta Sandry
Etta's practice expertise brings inventiveness to processes of handweaving that have been in use for centuries. Combining drawing, sculpting, and weaving, Etta creates playful objects that demonstrate the expansive structural possibilities of weaving on hand looms. 
Bio: Etta Sandry is an artist, educator, and facilitator from the midwestern United States, currently based in Tiohtià:ke/Montreal. Her material-focused research is rooted in fibre and weaving and spans media through sculpture, writing, and installation. Etta completed her MFA in the Fibre & Material Practices program at Concordia University in the spring of 2021. She has exhibited her work in the United States and Canada and was the 2022 Experimental Weaver in Residence at the Unstable Design Lab in Boulder, Colorado.  This talk will present her work as well as the outcomes of the residency.  https://ettasandry.com/, @ee_teetee_ay
Register