From the Chair
     WGST has sent another group of graduates off to new pursuits, armed with a specialization in women, gender, and sexuality studies and skills in critical analysis, problem-solving, and communication. We've increased our efforts at out-of-the-classroom education, and this semester offered two very popular activities. Triota, the women and gender studies honor society, brought in alums to speak about life and work after graduation, and we invited two young activists as "activists in residence" to talk about their careers and their organizations.
     This has been another growth year for WGST.  We welcomed a new faculty member—Robert Wyrod. We have also seen an increase in donations, thanks to many of you! Additionally, our student numbers continue to grow, and we ended the year with 147 majors and minors. Some of our stellar students have been particularly helpful in spreading the word about WGST to their peers. Speaking of stellar, we might have a rising political star in WGST major Sammie Miller, who gave a speech in front of hundreds when Vice President Joe Biden spoke on campus.
     Don't forget—we always love hearing from our alums and community supporters. And if you are wondering if even small donations can make a difference, the answer is YES!
Misri wins Kayden Book Award
We are proud to announce that Deepti Misri, associate professor of women and gender studies, has been recognized for her recent publication Beyond Partition: Gender, Violence, and Representation in Postcolonial India, as the latest recipient of the Eugene M. Kayden Book Award in Literary Studies. This award is given annually to a CU-Boulder faculty member whose work exemplifies excellence in scholarly writing, and includes grants for both research and to fund a future author-meets-critics symposium. Read more...
Graduation News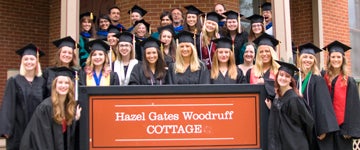 This year's Women and Gender Studies Commencement ceremony was an empowering and touching event, as a full crowd in the chapel of Old Main watched thirteen accomplished students celebrate the completion of their bachelor's degrees, as well as recognizing the achievements of our minors, certificate students, and scholarship recipients. Read more...
---
It's on Us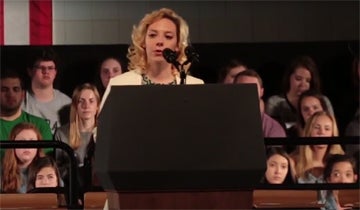 WGST major Samantha Miller delivered a powerful speech as part of the It's On Us campaign to bring awareness to sexual assault on campus, at an event featuring Vice President Joe Biden.
Read more...
Fearless Feminist Festival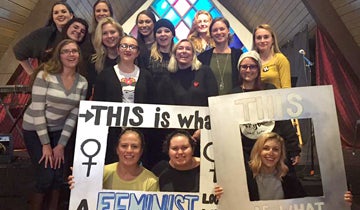 A snowstorm didn't stop the Women and Gender Studies Senior Colloquium from producing a hugely successful event as part of their senior project, celebrating feminism on the CU-Boulder campus. Read more...
Women's Reproductive Health & Justice: Young Activists' Perspectives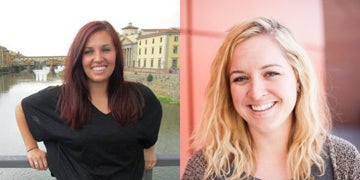 As part of our Activist-in-Residence program, the Women and Gender Studies faculty invited two young local activists, Brittany Burton and Jillian Coffey,  to the Gates Woodruff Cottage in early April to lead a day of workshops and discussions centered on women's reproductive health, reproductive justice, and community outreach. Read more...
---
Alums attend Triota Lunch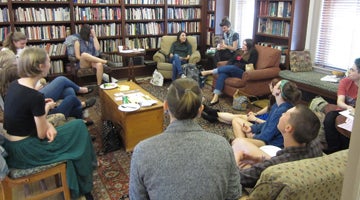 Student members of Iota Iota Iota (Triota), the women and gender studies honor society, invited a group of WGST alumni to an informal lunch at the Cottage on Friday, April 8th, including Amy Johnson, Emily Morgan, Sarah McCullar, Natalie Tsantes, and Becky Powell.  Current students were encouraged to meet with these former WGST students to explore post-graduate opportunities and ask questions about their experiences after college, while enjoying a catered lunch together. We were glad to have these accomplished people back at the Cottage and asked each of them for their reflections on this event. Read more... 
---
Denim Days

Denim Days, held the week of April 11-15, featured the now traditional display of denim in Norlin quad, as well as a film screening of the movie "The Hunting Grounds", a bake sale to benefit MESA (Moving to End Sexual Assault), a silent vigil for solidarity, a discussion on sex positivity with members of Biphoria, the Gender and Sexuality Center and OVA, and a self-defense workshop held in the Gates Woodruff Cottage.
Pictured: Gender Justice League members Haylee Wexler, Katelyn Nagel, Marley Jeranko, and Samantha Miller.
---
Bolder Voices:
Women and Gender Studies Newsletter 
Women and Gender Studies
University of Colorado Boulder
246 UCB | Boulder, CO 80309-0246
Phone: (303) 492-8923 | Fax: (303) 492-2549
wgst@colorado.edu
www.colorado.edu/wgst
www.facebook.com/WGSTatCU