One of the College of Arts and Sciences' highest honors, the Jacob Van Ek Scholar Award is given annually to faculty-nominated students who display superior academic achievement and service to their communities. "This year's winners managed, under very difficult circumstances, to excel academically and to contribute enormous service to incredibly diverse groups, and among them university organizations, professional organizations, nonprofit groups, national organizations and many more," notes Nina L. Molinaro, professor of Spanish and chair of the this year's award committee.
Two exceptional and highly deserving WGST students are among the 17 who have been honored with this award for 2021: Margaret Rose Friesen and Kiar Áine Rickert.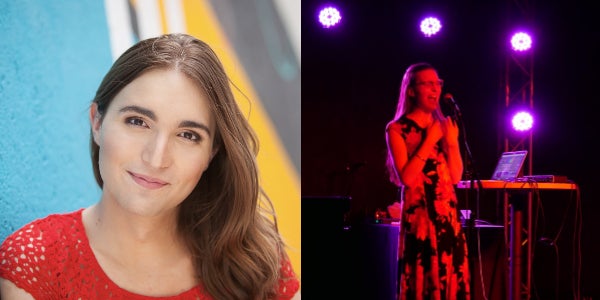 Margaret Rose Friesen, a senior with majors in both women and gender studies and music composition, was nominated for the Van Ek award by Dr. Kristie Soares. Maggie has excelled not only as a scholar, including taking on graduate-level work resulting in publication, but also as a performer and community leader. Dr. Soares explains that "Maggie displays a particular strength in understanding complex theoretical concepts and translating them into musical pieces that she composes and performs."
In Dr. Soares' Queer Theory course last spring, Maggie created a symphonic project with sounds from all her classmates, each related to the concept of "queer community". "The resulting co-created music was so beautiful that I and several of the students were reduced to tears," shares Dr. Soares, who adds that it was "the single best example of Zoom pedagogy that I have seen to date." Maggie went on to perform this piece at the First Unitarian Society of Denver, and she regularly volunteers with choirs on and off campus. Maggie has written and performed several hours of music about social issues, including her piece To Be Together, Again, which was designed to spur conversations about colonialism and land reclamation, and will soon be performed by the Boulder community chorus Cantibile and the Octagon Ensemble in New Zealand. Another of her original works, Can You Hear Me, describes a general experience of women being alone and unheard, with lyrics taken from a young woman's transcripts of Amelia Earhart's last known radio transmissions.
Dr. Susan Thomas, Professor of Musicology at CU, allowed Maggie to join her doctoral seminar Vocality, Affect & Performativity, and shares "I am so glad that I did! Maggie ended up being—and I don't say this lightly—the star student in my seminar." Maggie's work during Dr. Thomas' seminar resulted in her essay "Sounding and Writing Good: Composer Ethnics when Writing for Children," which appeared on the forum New Music Box, a major source for writing on new music and its role in the world today.
Dr. Soares also noted that Maggie has been "a fierce advocate for not only trans visibility, but trans aurality." Originally trained to sing bass, she now sings both bass and alto parts in her public performances as a mode of drawing attention to her trans identity. Maggie has also begun to teach queer composition methods to high school students, "and the pedagogical practices she has created are innovative in that they move past notions of the gender binary," according to Dr. Soares.
Visit Maggie's SoundCloud and YouTube pages for examples of her powerful work, including a choral performance of Maggie's piece Can You Hear Me.
Margaret Friesen on SoundCloud | Margaret Friesen on YouTube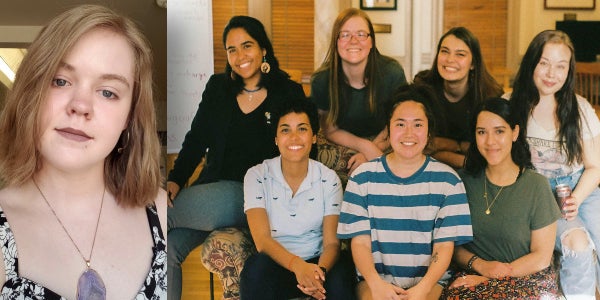 Kiar Áine Rickert, graduating with distinction in women and gender studies, sociology, and the LGBTQ Studies Certificate, has also been selected as a recipient of this distinctive award. Kiar was nominated for the Van Ek by the faculty of CU's Miramontes Arts & Sciences Program (MASP), an academic community supporting high-achieving, traditionally underrepresented and first-generation students at CU. Kiar's nomination was signed by all four MASP directors: Dr. Celeste Montoya, Dr. Karen Ramirez, Dr. Katharine Semsar, and Dr. CheyOnna Sewell.  
Kiar is graduating with a 4.0 GPA despite completing 2 majors and a certificate program. Due to their outstanding academic performance, Kiar has been on the dean's list since they began at CU, and has received multiple competitive awards and scholarships, including the Karen Raforth Scholarship, the Jean Dubofsky Scholarship and the Chancellor's Recognition Award. Kiar was also recently named as an Arts & Sciences Class of 2021 Outstanding Graduate.
They have also been an actively involved member in the Gender Justice League, as well as a peer mentor for MASP, and a peer educator with the Center for Inclusion and Social Change (CISC). "They are a determined and focused student and have been able to achieve this level of academic success while supporting others in their academic journeys and being a powerful changemaker," the directors share in their nomination letter. "They are devoted to leaving the university, community, and world a better place for people who sit at the margins."
Kiar worked with CISC to help develop anti-racism workshops, and has been an advocate for people with disabilities to maintain representation with CU's student government. "Ultimately, they helped to expand the impact of these existing spaces by ensuring that the needs of all LGBTQ students are considered and acting in solidarity with other marginalized groups."
Kiar has created several powerful zines while at CU, including two that center issues faced by the LGBTQ community, including resources for closeted LGBTQ people and information on abolition and restorative justice. They were also instrumental in helping the Gender Justice League transition to remote work last spring, including helping to create podcasts and run new social media accounts, and find new ways to perform activism while practicing physical distancing due to the pandemic.
Recently in the wake of the Boulder shooting on March 22, 2021, Kiar has been central in a grassroots mutual aid effort to distribute groceries to community members. "Kiar's willingness to expand established initiatives, create new initiatives, and continually grow their own personal lens is distinctive and spectacular," the directors write. "Their devotion to positive change work is obvious in every aspect of their life."