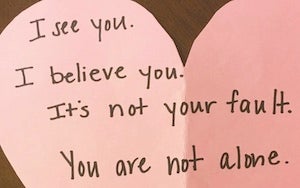 "Creating systems of mutual aid is a really important thing for us, especially our generation. Moving forward I think keying into our own power and not relying on institutional systems to find healing can be more empowering for survivors," explains Violet Stoudt, who along with two other classmates in her INVST cohort, Nina Patterson and Francesca Torsiello, are creating a new space of community, support and resources for survivors of sexual violence.
The INVST program prepares CU undergraduates to be leaders who work for social and environmental justice, and WGST students often co-enroll in their program, earning a minor in Leadership. During the second year of this program, students create their own "Community SOL" projects (Serving, Organizing, Leading)-- with guidance from Program Director, Sabrina Sideris, they learn to research, design, implement and evaluate their own community-based projects. One group of students is working on their own SOL project to create a workbook for survivors of sexual violence, a virtual community space for survivors to gather, and a website to coordinate their efforts.
"During the fall semester we did a lot of individual research on needs we saw in the community," says Nina, who graduates in May with a degree in Women and Gender Studies and minor in Leadership. These three group members then joined forces after seeing that all their research revolved around finding ways to be of service to the needs of survivors of sexual violence. Nina contines, "many in our community have experienced sexual violence, but only a small portion are going to therapy, or trauma-informed yoga. Obviously, there's something going on, where people either cannot access them or don't feel comfortable going, which is a major problem. Our goal is to help increase the daily number of healing practices survivors participate in."
The group is making the final touches on a new workbook of resources, tips and healing tools for survivors of sexual violence, which they hope to make as accessible as possible. "One of our broader goals is to really create community and conversation around this, especially on campus with students, and then to also help connect them with resources in the community that they may not know about," says Nina. This book will be made available electronically on their new website, as well as physical copies which will be distributed across campus. "I look forward to having the workbook to turn to," adds Violet, a double-major in Women and Gender Studies and Ethnic Studies, and minor in Leadership who will graduate next spring. "It will include different healing techniques, coping techniques, and journal prompts to help you reflect on what is going on in the moment that's triggering you."
Francesca, who will graduate this spring with a major in Psychology and Leadership minor, shares that "we all wished we had more of a community when we are really dealing with, and coming to terms with, our identities as survivors. That is why we really wanted to have the Facebook group, so that we could create community and create conversation, surrounding healing tools and practices." Violet adds, "we don't want it to be a space of re-traumatizing people, more so a place for connecting and sharing what has been helpful in your own healing journey. I think that's what the sense of community is for us -- it's not necessarily sharing the trauma, but sharing an experience and knowledge, and recognizing you're a person outside of all of that, that you have your humanity. That [trauma] is part of you as a person, but it's not all of you, you also have these other aspects of your life that are also really important to making you a whole person."
"I like being able to share healing tools with someone else," says Violet. "It is also healing for yourself, being able to help others. [This project has been] a really powerful way of validating my own experiences and knowledge on a subject, showing ourselves that we are capable of creating something really powerful, and acknowledging that because we've had these experiences, we've learned healthier coping techniques from our process of healing. It just feels good to be doing that."
To learn more about this new workbook for survivors of sexual violence, please visit their new website at: https://sites.google.com/colorado.edu/survivor-healing-collective/home. You can request to join their private FaceBook community here: https://www.facebook.com/groups/875138543281688.