Recent Faculty Talks
"Family Planning is a Christian Duty":  Religion, Population Control, and the Pill in the 1960s
Thursday, February 20, 2020   
Dr. Samira Mehta led a discussion of her chapter "'Family Planning is a Christian Duty':  Religion, Population Control, and the Pill in the 1960s," included in the book Devotions and Desires: Histories of Sexuality and Religion in the 20th Century United States (Eds. Gillian Frank, Bethany Moreton, and Heather White; Chapel Hill: University of North Carolina Press, 2018).
Leadership Education for Advancement and Promotion (LEAP) Women Faculty Reading Group is committed to the advancement and professional development of women faculty on the Boulder campus.  They sponsor four women's faculty lunches each year, to which all women faculty are invited.  These informal get-togethers are a great opportunity to meet new colleagues from across the campus, to discuss matters important to their careers, and to build social and professional networks.
---
From Suffrage to Shelby: An Intersectional Analysis of Voting Rights in the United States
Thursday, February 13, 2020
Dr. Celeste Montoya examined the historical intersections of race and gender within the Women's Suffrage Movement and Civil Rights Movement and discussed the contemporary attacks on voting rights, at this event presented by CommRAP.
---
TV with a Prof:  "Pose"
Wednesday, February 12, 2020
Dr. Kristie Soares led this discussion on the series Pose for the Honors Program at CU Boulder.
Emmanuel David is currently on sabbatical in the Philippines. He was a guest speaker in two Introduksyon sa Pilipinolohiya classes at De La Salle University in Manila. In addition to speaking about his work on gender issues in the Philippines, he learned about the student projects, which explored issues ranging from Philippine cinema and music to traffic and the daily commute to the politics of kulay kayumanggi (brownness). In February, he also delivered an invited lecture, "Toward a Sociological Theory of Trans Value," at Singapore Management University's School of Social Sciences.
---
Dr. Celeste Montoya discussed her predictions for Colorado's Super Tuesday results in "Notes from Colorado" as part of Expert Outlooks: Super Tuesday, published by the Center for American Women and Politics. She was also interviewed for several recent articles regarding Colorado politics and elections:


Pictured: Dr. Kristie Soares recently gave a talk on Latinx Stereotypes in the Media at Collegiate Charter School in Los Angeles, CA.
WGST Faculty 2020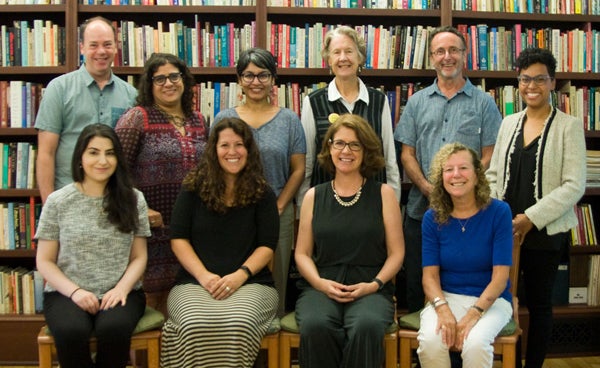 (clockwise from top left): Robert Wyrod, Samira Mehta, Deepti Misri, Alison Jaggar, Robert Buffington, Kristie Soares,
Janet Jacobs, Lorraine Bayard de Volo, Celeste Montoya, & Maisam Alomar (not pictured: Emmanuel David)