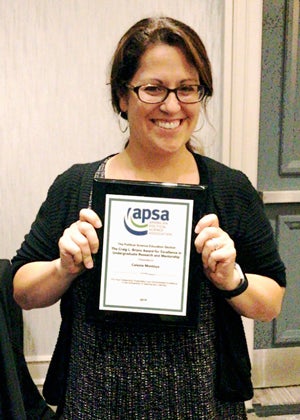 Celeste Montoya, associate professor of WGST and director or the Miramontes Arts & Sciences Program (MASP), was recently awarded the Craig L. Brians Award for Excellence in Undergraduate Research and Mentorship, by the political science education section of the American Political Science Association. This award is presented annually to a faculty member who shows exceptional dedication to and skill in teaching and mentoring students inside and outside the classroom, including their commitments to formal and informal supervision of undergraduate student research, public presentation and publication of their work, and accompanying them to academic conferences.
Dr. Montoya was nominated for this award by Mariana Galvez Seminario, a WGST and Sociology double major. Mariana writes in her nomination letter, "Dr. Montoya has gone above and beyond in helping me gain confidence... she has helped me see that I have what it takes to be successful." Mariana also relates that before meeting  Dr. Montoya, "I hadn't had any experience with knowledge produced by Latinx people. Growing up, I never had a Latinx teacher, and I never read or knew of anything written by a Latinx person… Suddenly, I realized I had a place in knowledge production, too."
Mariana is currently assisting Dr. Montoya on a research project surrounding Latina activism and mobilizations, titled Guerreras y Puentes: Legacies of Chicana Feminism and Contemporary Latina/x Activism. "I am so lucky to have someone like Dr. Montoya there—who is not only an extraordinary mentor, but also someone who looks like me," Mariana writes. In addition to the Craig L. Brians award, Montoya has previously been recognized for her excellence in mentoring and teaching with the 2017 Best Should Teach Award, and twice receiving the Women Who Make a Difference award, in 2013 and 2016.