The Department of Women and Gender Studies is proud to offer several scholarships and award recognitions to our students each year. The students were honored at our annual Commencement ceremony in Old Main on Thursday, May 9th.
2019 Lucile Berkeley Buchanan Scholarship:
Madison Rose Boreman
Madison is a double-major in women and gender studies and psychology, and is active with Black Women's Alliance, volunteer work, and is a 3-time dean's list honoree.  As a student-athlete on the University of Colorado Boulder's Cross Country team, Madison grappled with a difficult decision: whether or not to take a knee during the national anthem of an NCAA championship race, during a wave of such protests sparked by Colin Kaepernick's action. In her application, Madison writes "I knew that I would be alone in my vulnerable kneeling position, but I also knew what I could be representing and participating in: a large social activist movement in efforts to aid minorities in society." She did decide to take a knee, and found support from her teammates and competitors alike. "I like to think that my seemingly small action of kneeling impacted the movement it represented even in the smallest way, but if not, it impacted a smaller group: of me and other black women who also stood on the line before the race."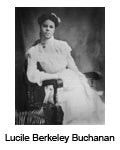 The Lucile Berkeley Buchanan Scholarship
is given annually in honor of Lucile Berkeley Buchanan, the first black woman to ever graduate from the University of Colorado Boulder, awarded to a student who demonstrates a commitment towards social justice and who may be the first generation in their family to attend college. Buchanan earned a degree in German in 1918, but was barred from walking across the Old Main stage at graduation to accept her diploma, and her picture was not included in the yearbook. Buchanan's story was uncovered by Professor Polly McLean, and related in her recent book
Remembering Lucile: A Virginia Family's Rise from Slavery and a Legacy Forged a Mile High
. The university posthumously honored Buchanan in 2018, with Dr. McLean accepting a diploma on Buchanan's behalf.
2019 Jean Dubofsky Scholarship:
Rebekah Kenitzer
Rebekah is a women and gender studies major, with a minor is sociology. She was on the dean's list last fall, and is working toward a career in policy making, the non-profit arena, and public health.  She is proudly involved in philanthropic efforts as a member of Alpha Chi Omega and has volunteered at the Safehouse Progressive Alliance for Nonviolence (SPAN), leading fundraising events there. She has also worked as an intern at Moving to End Sexual Assault (MESA), working on the hotline to assist survivors of domestic/sexual violence, and with social media outreach. Through her experiences so far, Rebekah notes that she has learned the importance of social justice organizations continually looking to increase inclusivity, to bring attention to disregarded groups and to embrace differences. The committee could think of no better candidate for the Dubofsky Scholarship.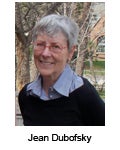 The Jean Dubofsky Scholarship
was established by professor emerita Dr. Joanne Arnold in honor of Jean Dubofsky, the first female justice of the Colorado Supreme Court and later an attorney who led the case at the U.S. Supreme Court to overturn Colorado's Amendment 2, which was a landmark ruling for LGBTQ rights. The scholarship provides to support to women and gender studies majors who have demonstrated a commitment to social justice as well as a strong acadmic merit.
2019 Andermarch Cicogna Scholarship:
Jessica Marie Chavez
Jessica is a junior majoring in women and gender studies, and is a student in the INVST Community Studies program. She was chosen for this award for both her strong academic performance, and her commitment to social justice.
Jessica is currently involved in Transformative Teach, an organization that takes a curriculum-based approach to prevent the perpetuation of the School to Prison Pipeline. As Jessica describes, "My team and I are targeting future teachers enrolled in teacher licensure programs to present them with history, local examples, and their stake in this issue. This is important to me because I believe all children deserve a fair chance in this world like their mothers and fathers and ancestors did not get. It is important to address the root causes of this problem rather than the symptoms."
The Andermarch Cicogna Scholarship
was established by professors Valerio Ferme and his spouse, Giorgio Corda as a parting gift to CU Boulder, named in honor of their mothers. In alternating years, the scholarship is given to high-achieving students in either the Italian or women and gender studies departments.
The award recognizes students who share the same spirit of compassion, understanding, social justice, and academic pursuit as the two women for whom the award is named, Renata Andermarch and Patricia Cicogna.
2019 Joanne Easley Arnold Outstanding Senior Award:
Karina Hillman
Karina has completed degrees in both women and gender studies and political science. Our faculty chose Karina for this award for truly exemplifying inclusive, conscientious, and intersectional feminist leadership. As our students know, leadership takes many forms beyond traditional and hegemonic models. While traditional models may look for the loud booming voice dominating the masses, other models are quieter and more subtle, leading more by example and service. For several years, Karina has been part of a small group of students dedicated to confronting gender and sexual discrimination on our campus and in our country. This is a passionate group and she has played a pivotal role in making the Gender Justice League both a vanguard of activism and a much-needed space of mutual support. Again and again, she exhibited poise and compassion as a leader, listening empathetically to the views of other members to find shared goals and commitments. Equally impressive, Karina provided this leadership in an understated way while never diluting her own principles or beliefs. Beyond her work in the Gender Justice League, she is also a leader on campus in bringing a critical feminist perspective to environmental issues, including outdoor sports.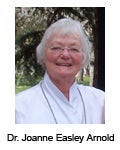 The Joanne Easley Arnold Outstanding Senior Award is named in honor of a professor emerita of the School of Journalism and Mass Communication at the University of Colorado Boulder, for her long-term support of Women and Gender Studies. Chosen by the women and gender studies faculty, it is given annually to a graduating student to recognize them for outstanding leadership, service, and commitment to women and gender studies.
2019 Women & Gender Studies Excellence in Inclusion Award:
Haley Takahashi
Haley is a senior graduating with a BFA in art practices, and is awarded the Women and Gender Studies Excellence in Inclusion Award for their art piece: "This Land is Soaked in Blood." Haley's piece, pictured below, is a stunning, ceiling-height Japanese Kimono covered in blood-red replicas of the 1942 U.S. government order mandating that all persons of Japanese ancestry report to internment camps. In their artist's statement, Haley notes that this issue is quite personal to them, as their own grandmother was sent to an internment camp. Haley reminds us that the "history of violence, prejudice, racism, and horror permeate the identity of many Japanese Americans." The faculty were very impressed with Haley's artwork and with the powerful statement that it makes about both historical and contemporary issues of racial profiling.
This Land is Soaked in Blood
Silkscreen, Unbleached muslin, red dye, netting, red embroidery thread
2019

"In 1942, my grandmother and her entire family were taken from their home and sent to internment camps in the American west. The history of violence, prejudice, racism, and horror permeate the identity of many Japanese Americans. This history, comparable to the horrors of the Holocaust, is rarely taught in American schools and is hidden from mainstream America. The land we call free is soaked in the blood of the minorities that have fallen victim to its ignorance. Today children are being separate from their parents at the border, Muslim Americans are banned from traveling, refugees are turned away from solace, and the pain that my ancestors felt is as poignant as was 77 years ago. We must never forget the history that defines us."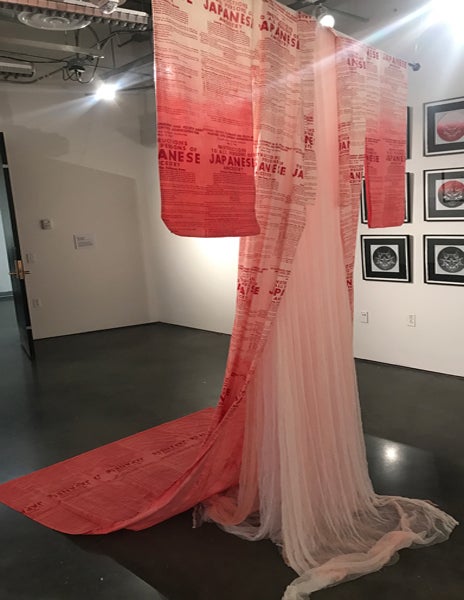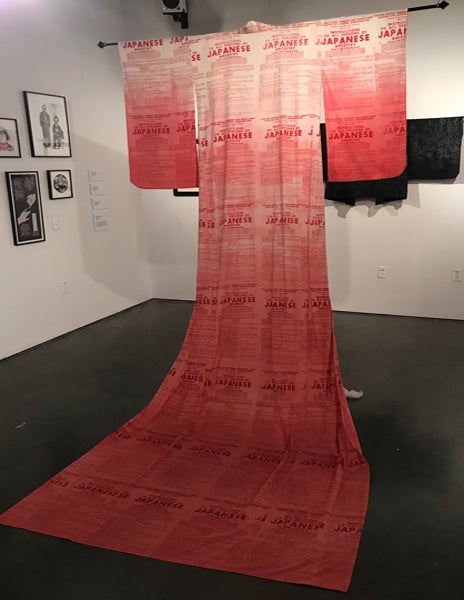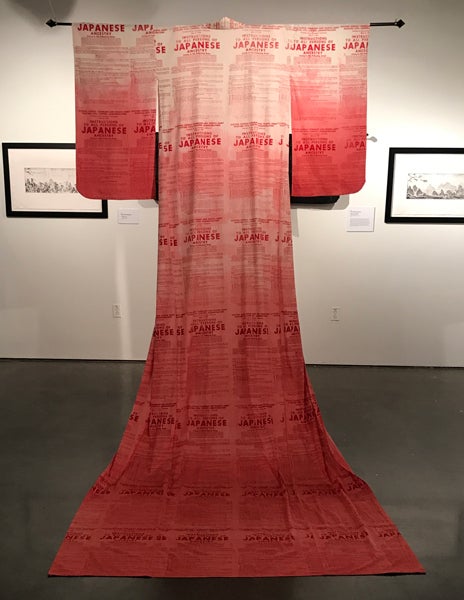 The Women and Gender Studies Excellence in Inclusion award recognizes outstanding student projects that explore issues pertaining to diversity and inclusion at CU Boulder or in the U. S. more generally.  It is designed to help foster an inclusive and welcoming campus climate for historically underrepresented groups in the field of education. Students from across the campus are invited to submit research or creative works for consideration by a committee made up of faculty, staff, and students from our department.