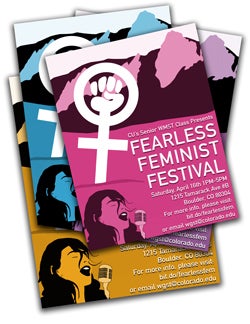 A snowstorm didn't stop the Women and Gender Studies Senior Colloquium from producing a hugely successful event as part of their senior project, celebrating feminism on the CU-Boulder campus. Originally scheduled as an outdoor event, the students quickly adapted their plans and found a wonderful space in the Wesley Foundation Student Center, which was graciously donated for their use.
The Fearless Feminist Festival, held during the afternoon on Saturday, April 16th, featured multiple local musical acts, from solo performers to full bands in the beautiful Wesley Chapel, as well as an auction of student-created arts and crafts to benefit Planned Parenthood of the Rocky Mountains. Attendees were treated to a varied spread of sandwiches, snacks, and desserts, as well as many items offered through a bake sale. A letter-writing station was set up, to allow people a quiet space to write a letter to either a feminist role-model or their future selves.
The display of creativity, talent, and activism by these students was enjoyed by a large group of their peers, family, friends, and WGST faculty and staff. We encourage you to view the highlight video the students had made to memorialize this capstone project.