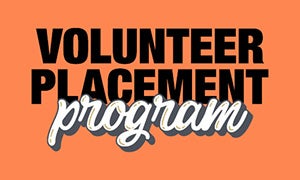 The Volunteer Placement Program is designed to bridge student volunteers and local nonprofit organizations to address immediate community needs. This is a unique opportunity for students interested in pursuing an ongoing volunteer experience that will challenge them to grow and learn as active members of the Boulder community. Students who participate have the opportunity to network and build relationships, learn about and directly serve diverse community needs and get a strong start volunteering in CU Boulder community and in surrounding communities. Students apply to the program and are matched and placed with recognized community partners for a semester (or specific amount of time based on the needs of the community).
Organizations who serve as recognized community partners are connected with a small cohort of volunteers who agree to volunteer with the organization and who plan to volunteer on a weekly basis for about three hours each week. The number of volunteers placed with each organization is tailored to what is needed and manageable for the organization and our team works to recruit and place as close to that number as we can.
The Volunteer Placement Program provides coaching, placing and matching for student volunteers based on their skills and interests, a warm hand off to the organization students choose to volunteer with, opportunities to learn, serve and reflect, and support throughout the experience if student volunteers have questions about how to be effective as volunteers, solve problems, communicate effectively with their organization and/or need to process things they learn along the way.
---
Program overview
Students apply for the Volunteer Placement Program by the application deadline.
Applicants are matched with a recognized community partner based on their interests, skills and input.
Students are presented with a placement and choose if they would like to accept and go through with the placement.
Students commit to volunteering approximately three hours per week or 30 hours total during the semester. Please note some placements may have unique requirements. Please review the student agreement for more information on the full expectations for participants.
The VRC provides intentional coaching and matching of volunteers, a warm hand-off to the organization and technology to track impacts and support at any point throughout the experience.
Student volunteers agree to communicate with the organization and the VRC team, track their volunteer impacts and reflect on their experiences.
After completion of the program, students choose to either continue volunteering or close the loop with their organization.
Student volunteers and nonprofit organizations agree to practice ongoing communication to navigate scheduling, cancellations and/or adjustments to shifts, challenges and gaps in knowledge, and to answer questions throughout the program.
---
Application information and key dates
Information regarding our fall 2023 dates and community partners will be available soon

Learn about the recognized community partners listed below, check out the student agreement before applying and/or inquire by emailing volunteer@colorado.edu.
Apply to the Volunteer Placement Program!
Recognized community partners
Recognized community partners are nonprofit organizations that work to address social and environmental justice issues in the Boulder community. As partners with the Volunteer Placement Program, these organizations provide training, support and weekly opportunities for participants to directly advance their organizational missions. Learn more about our recognized community partners below.