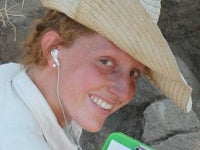 Biography
Pascale Meehan is a current Ph.D. student at the University of Colorado, Boulder. She graduated from McGill University in 2008 with an honours B.A. in anthropology and from the Université de Montréal in 2010 with a M.Sc. in anthropology. Pascale has worked on several archaeological projects in Mexico including the Proyecto Especial Cantona (Puebla) in 2009 and 2010, the Central Yucatan Archaeological Cave Project in 2011, and the Proyecto Río Viejo (Oaxaca) in 2012. As a Ph.D. student, she will focus on the coastal sierra of Oaxaca where she is especially interested in the movement of people and goods across a landscape and how that movement is tied not only to the geography but also to the political and economic relationships between regions. She has published an article on the Maya tup k'ak' ceremony in Mexicon (April 2013).
Biografía
Pascale Meehan es actualmente estudiante de doctorado en la Universidad de Colorado en Boulder. Realizó sus estudios de licenciatura en la Universidad de McGill de donde se graduó con honores en 2008 en la carrera de Antropología. Posteriormente realizó una maestría en Antropología en la Universidad de Montreal (2010). Pascale ha trabajado en diversos proyectos arqueológicos en Mexico, incluyendo el Proyecto Especial Cantona (Puebla) en 2009 y 2010, el Proyecto Arqueológico de las Cuevas del Centro de Yucatán en 2011 y el Proyecto Río Viejo (Oaxaca) en 2012.
Durante su doctorado, se enfocará en la sierra de la costa oaxaqueña, siendo su principal interés el movimiento de gente y bienes culturales a través de un paisaje y como éste se vincula no solamente con la geografía sino también con las relaciones politicas y económicas entre regiones. Recientemente, Pascale publicó un artículo sobre la ceremonia maya del tup k'ak' en la revistaMexicon (Abril 2013).