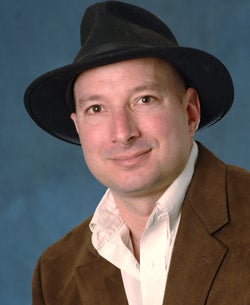 The Presidential Teaching Scholars Program announced today that Associate Professor Noah Finkelstein has been selected as a Presidential Teaching Scholar.
Noah joins the 52 active Presidential Teaching Scholars on the four CU campuses who have been honored for, "effective and exemplary teaching, creative work, scholarship, and research."
Presidential Teaching Scholars are chosen, "not only for skill in their own classrooms, but for their promise of improving education and enlarging its possibilities across the University."
Noah joins three other Presidential Teaching Scholars in physics: Professors Steven Pollock and Carl Wieman, and Professor Emeritus John Taylor. Professor Finkelstein and Professor Harihar Rajaram from the CU-Boulder Department of Civil, Environmental, and Architectural Engineering were the only two Presidential Teaching Scholars selected this year.
"I am deeply honored to join this remarkable and prestigious group of scholars who are so committed to scholarship and excellence in teaching," Finkelstein said. "It speaks volumes that one of the highest level awards in the University system focusses on education and scholarship in teaching. It honors our roots, state charter, and commitment to serving the state and the nation through fundamental investment in education. Education is the key mechanism by which we as a society invest in our own future"
"The Department of Physics is very proud of this honor for Noah Finkelstein," Professor Paul Beale, Chair of Physics said. "Physics has long been a campus leader in outstanding teaching, and over one dozen members of our faculty have won leading campus and national teaching awards. Since Noah joined our faculty, he has been a departmental and campus leader in teaching, and a national leader in science education research. He is a respected and valued colleague, and exemplifies the goals of the Presidential Teaching Scholars Program with his outstanding classroom teaching, and his integration of research and teaching."