The Peace, Conflict, and Security Program has been growing at the University of Colorado since 1968. It may have been initiated by physicist Malcolm Correll, teaching an Integrated Studies course on war and peace in that year.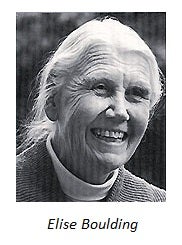 It was formally created as a program when peace theorists Elise and Kenneth Boulding came to teach at the university shortly thereafter. The Vietnam War was in high gear then and faculty and students alike saw the need for an academic program of courses, colloquia and career development around war, violence prevention and social justice. In 1971, COPRED, a North American association of peace researchers and educators was founded at CU Boulder and thus PACS became somewhat of a model for other university programs. Francis Beer was brought in to direct PACS in 1976 and yet another growth spurt followed. Throughout the 1980s and early 90s, the study of peace and conflict flourished in several departments at CU, notably in sociology, political science and psychology. New programs were started...International Affairs, INVST, the Social Conflict Concentration. At its inception, PACS was one of a handful of peace studies programs in the world. By the arrival of the new millennium, hundreds of such programs existed. The study of conflict management and peace development had become something of a metadiscipline within the academic world and PACS at the University of Colorado had been instrumental in that evolution.
PACS assumes a broad concept of peace; a process which requires preventing violence, disarming the world, meeting human needs, protecting human rights, resolving conflict without violence, insuring social justice, truthseeking. Students with an intellectual and ethical commitment to such peace-supportive study and action find in PACS a way to prepare themselves as professional peacemakers. Just as peace and conflict studies has grown rapidly, so too has the not-for-profit sector of global society working to create the requisites for peace. This peacemaking "industry" requires university-trained professionals to run it. A PACS graduate could take the path of mediator, human rights activist, classroom peace educator, social development specialist, legislator, advocate, mass media communicator, environmental dispute settler, etc. The PACS program prepares students to understand and practice peacemaking in whatever part of the world of work their interest might lead them.