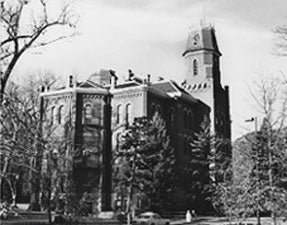 When Old Main was built, there were no buildings or trees nearby—only grasses and cacti. What the founders imagined around Old Main was a beautiful park, which included fountains, statues, beds of flowers, a large pagoda, a lake, a large vegetable garden, and winding carriage drives.
However, the plans for the campus changed over the years, with more and more buildings constructed where the pagodas and statues were planned.
At first, the university could barely fill Old Main even though it included living quarters for the president and his family. However, the building was soon bursting with a library, the cabinets that were the beginning of a museum, collections of highly prized laboratory instruments, more faculty members, and more classes.
Although plans were made to demolish Old Main in the 1920s, a full structural renovation was made instead. In the 1980s it was refurbished from top to bottom. An elevator was installed, the old chapel was charmingly restored, and the CU Heritage Center was opened on the third floor.