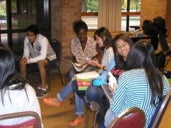 A social justice approach to leadership
Based on a social justice approach, coursework emphasizes that building community, collaboration, ethical reflection, respect, and valuing diversity are hallmarks of contemporary leadership practice.
---
Community

Classes are small, welcoming, and inclusive; you will develop a sense of belonging, a home in a large campus. Students form community as a cohort of scholars and scholarship recipients.
---
Scholarships
Multicultural Leadership Scholars are eligible to receive a $1,500 annual, renewable scholarship from the CU LEAD Alliance. Email Krishna.Pattisapu@colorado.edu if you have questions.
Housed in the
School of Education
, the Multicultural Leadership Scholar classes are open to all students and all majors.
All first-year students are welcome to apply! 
---
Courses
Fall Semester 
LEAD 1000-801 - Becoming a Leader - 3 credits
Introduces students to the theoretical, cultural and ethical dimensions of leadership and its application to social issues of our time.  Provides students with an academic knowledge of leadership and leadership competencies.
EDUC 2910 – Field Practicum I - 1 credit
Students will share their experiences, perspectives, knowledge, thoughts and ideas as they work toward building and sustaining community and practicing culturally competent leadership within a multicultural setting.  Students are challenged to step outside of their comfort zones and explore their beliefs, values and socialized ways of being around race, culture, gender and difference.  May be repeated up to 6 total credit hours.
Spring Semester 
LEAD 2410 - Dynamics of Privilege and Oppression & Empowerment in Leadership - 3 credits
Examination of the theoretical framework of social identity development, individual- , group, cultural- and institutional- power dynamics, and the resulting inequalities formed by systems of privilege and oppression.  Application of theory to both how specific forms of privilege and oppression – and their intersections - are manifested in society and how leadership is used to continue these systems or lead to empowerment and liberation.    
EDUC 2910 – Field Practicum I – repeat for 1 credit
Sophomore & Junior Years
EDUC 2920 – Field Practicum II -1 credit
Course provides the venue for Peer Mentors and instructors to plan the facilitation and observation strategies for the EDUC 2910 Practicum for first year students.  Peer Mentors will also participate in reflections on the process of the practicum and practicum activities.  Both the planning for the practicum and the engagement in the Pedagogy and Curriculum course follow the mission of developing culturally competent leaders who practice an ethic of civic and social responsibility.  May be repeated up to 6 total credit hours.
Peer Mentor Information & Application ​
INVS 3100 - Multicultural Leadership: Theories, Principles, and Practices - 3 credits
Focuses on leadership theories and skills necessary for effectiveness in multicultural settings. Students gain understanding of traditional and culturally diverse approaches to leadership and change through comparative analyses of western and non-western theories and practices.  Approved for arts and sciences core curriculum: human diversity.
INVS 3500* - Special Topics in Multicultural Leadership (1-2 credits)
Junior or Senior Year 
LEAD 4000 - Leadership in Context and Emerging Challenges: A Capstone - 4 credits
Integrates leadership topics and experiences students pursued through the Leadership Studies Minor. Using advanced critical thinking skills, the seminar requires students to evidence their knowledge, competencies and skills related to leadership theory and practice through examining contemporary leadership challenges. Further, the seminar directs students to justify decision-making processes, demonstrating their ability to synthesize prior knowledge to affect desirable, ethical outcomes.
**** Following this Pathway, Your Leadership Studies Minor Courses Are Now Complete ****