The COVID-19 pandemic has highlighted a need for strategies to mitigate the risk of airborne disease transmission in shared indoor spaces. In an effort to better understand indoor airborne contaminant transport funded through DTRA and in partnership with LBNL, this work presents a methodology for simultaneously simulating aerosol dispersion from multiple source locations in CFD and metrics for assessing the in-room performance of different ventilation strategies. Using these methods engineers can efficiently assess the performance of different ventilation strategies at removing contaminants from the occupied region of the room.
This work has been published under the title "Assessing the Use of Portable Air Cleaners for Reducing Exposure to Airborne Diseases in a Conference Room with Thermal Stratification" in the journal Building and Environment. The full paper is available at this link. 
The first author of this paper, Jake Castellini, is a Ph.D. student in the SBS Lab, where his research focuses on the application of efficient CFD and well-mixed modeling techniques to the understanding of indoor transmission of airborne pathogens.
Congratulations to Jake on publishing this paper!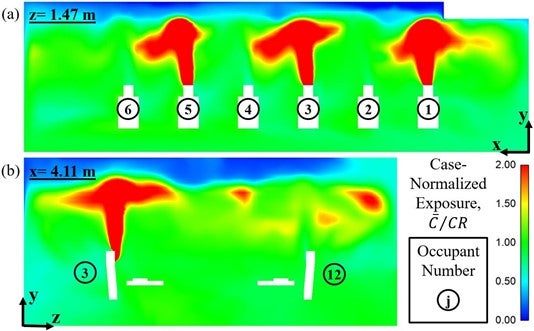 (Contours of the room averaged contaminant concentration for the baseline case normalized by the average breath-zone concentration)