Stephanie Toliver celebrates Black women in science fiction and beyond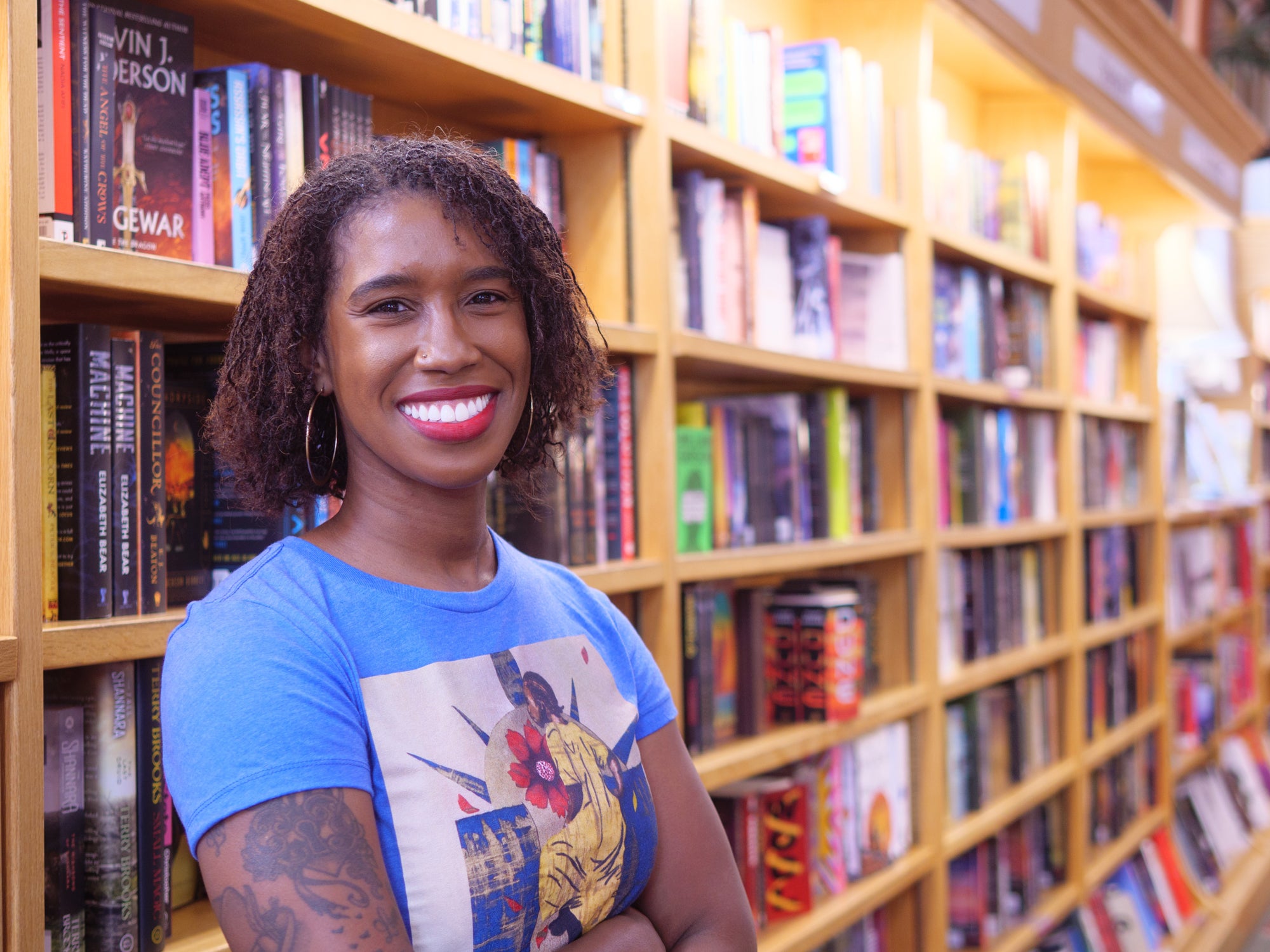 Stephanie Toliver was an undergraduate studying English education in Tallahassee, Florida, when she discovered a book that changed her life.
The novel was Parable of the Sower by Octavia Butler. Published in 1993, the science fiction story follows a young "hyper-empath" named Lauren Olamina as she travels across a futuristic California ravaged by poverty and white supremacist gangs.
Toliver was already an avid reader of science fiction and fantasy. She'd spent much of her childhood devouring books in the Animorphs and The Hero and the Crown series. But this book stood out for having a main character who, like Butler and Toliver, was a Black woman.
"I called home, and I said, 'Oh, my God, there's this new author who does such cool work,'" said Toliver, assistant professor of literacy studies who joined the CU Boulder School of Education in 2020. "Then I looked at the copyright and realized that it was from the '90s. I had to sit with myself for a minute to think about why I didn't know that it existed."
When I dream of Afrofutures, I see Black girls who aren't forced to minimize their genius. I see school spaces that protect them, and I see Black girls using their creativity to set the record straight in a crooked system."
Today, the scholar has dedicated much of her career to celebrating and sharing the existence of Black women in science fiction and fantasy.
Toliver believes that books play an important role in the education of young Black women and people of color, and science fiction and fantasy challenges readers to dream up new futures where their communities thrive. As a PhD student at the University of Georgia, she studied Afrofuturism, a genre of speculative fiction that delves into the experiences of Black and African people, encompassing works from Black Panther to Toni Morrison's Beloved.
"When I dream of Afrofutures, I see Black girls who aren't forced to minimize their genius," Toliver said. "I see school spaces that protect them, and I see Black girls using their creativity to set the record straight in a crooked system."
As part of her PhD research, Toliver agreed to teach a writing workshop for six Black middle school girls living along the Georgia coast. She soon learned not much had changed since she was a teenager. Science fiction and fantasy were still largely seen as the province of stereotypically nerdy white men.
"I asked them had they ever read a science fiction, fantasy or horror story that had a Black girl as the main character," Toliver said. "They all said no."
So she asked the girls to write their own science fiction, fantasy and horror stories. With permission, Toliver wove these pieces of fiction into her dissertation, which she's adapting into a book—part novel and part scholarly tome.
It's set in a dystopian world in which people of color are forced to undergo a surgical procedure that removes their ability to dream. Some rebels, however, follow clues hidden in Afrofuturist novels to reach an underground haven called The Harbor. Here, people of color can escape a racist society to safely explore their passions.
Working with the girls drove home the power of Afrofuturist literature. As she learned when she picked up Parable of the Sower, seeing yourself existing in the future can be a transformative experience for young Black women.
"In every other science fiction story, Black folks, brown folks, Asian folks just disappear. Where did we go?" Toliver said. "If you're consistently reading about the future and other worlds where you don't exist, it calls to question: Will you?"
Toliver's work underscores the need for children to have more freedom in and out of the classroom to read the books that speak to them and their experiences. She dreams of "blowing up" the canon of books that kids typically read in school—from The Great Gatsby to 1984.
"Some students might want to read the canon, and that's OK," Toliver said. "But some students might want to read realistic fiction about Indigenous populations or science fiction about Black girls. We need to ensure that the students in our classrooms are getting what they need and not just what we decided they need."
---
Learn more about Stephanie Toliver's dreams for the future in her amazing EdTalk, "I Dream of Afrofutures."
Professor Toliver walks viewers through history and today documenting Black girls who dared to imagine better worlds, from Amy Ashwood Garvey, who helped found the United Negro Improvement Association in 1914, to Coretta Scott King's influences on Martin Luther King Jr.'s sci-fi reading selections, to Kheris Rogers' launch of the clothing line Flexin' In My Complexion in 2017.