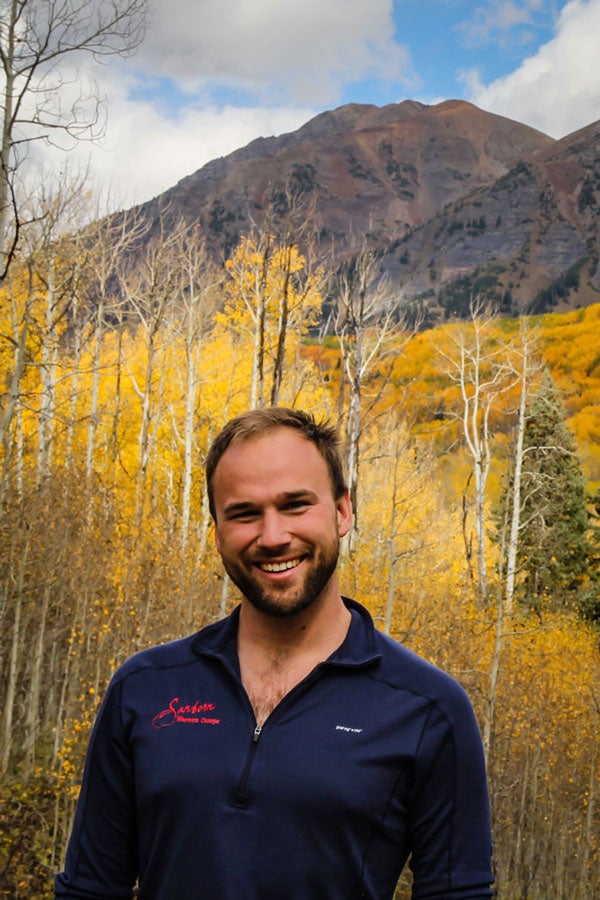 A long line of educators inspired Will Ostendorf's winding path to becoming a teacher. His parents are both teachers — his mother taught middle school and his father entered the profession after retiring from an information technology company and volunteering five days a week in a middle school. 
As an undergraduate, Ostendorf originally aimed to become a music teacher with the hopes of following in the footsteps of his own inspiring middle and high school music teachers. However, he realized he was more equipped to pass on the joy of music and learning to students rather than to study as a musician, and after some soul searching, he landed a position in outdoor education with the High Trails Outdoor Education Center. There, he discovered he loved working with the 5th and 6th graders and realized that his passion was in teaching, not specifically music. 
After earning a bachelor's degree in elementary education, Ostendorf landed his dream job — teaching 5th graders. As an active educator, he enrolled in the CU Boulder School of Education's literacy studies Master's program, where he brought a passion for literacy education, technology, and equitable education for all learners that has been evident not only in his teaching, but also in the many ways in which he contributed to and strengthened his literacy studies graduate community. 
In addition, Ostendorf is a head instructor for a leadership program in peer collaboration and social emotional learning, and he is also a leader in instructional technology.
As part of CU Boulder courses in digital literacies and literacy assessment, Ostendorf served as a reading tutor and technology coach during a year-long after school program held at a Lafayette elementary and supported by School of Education faculty. His expertise as a media literacy leader was a key component of the success of elementary digital media lab program last year, as he generously supported peers, instructors, and children in the creation of innovative and technically complex projects, such as creating green screen news casts composed and led by elementary students. He also provided insights in mindful and ethical ways to use technology in ways that were responsive to students' cultural and diverse backgrounds, through the informed selection of apps and websites and the critical examination of their features.
More recently, Ostendorf's tech leadership came full circle in response to the COVID-19 instructional changes and online teaching requirements. He has spent countless hours helping to set up his school's online teaching program and was instrumental in supporting his peers in their remote-teaching transition while teaching his own fifth grade classroom.
Ostendorf's CV states that his objective is "to create a learning environment in which students thrive. To foster a sanctuary where we take educational risks in order to succeed through critical thinking, creativity, collaboration, and communication skills in all subject areas." He is a leader in demonstrating that in his own teaching.
Get to know Outstanding Literacy Studies Graduate William Ostendorf:
What is one of the greatest experiences or lessons from your time at CU Boulder that you'll carry with you into the next chapter of your life?
During my time working with the faculty at CU, I learned to bring my personal touch into everything I do as a teacher. During my first few years of teaching, I was trying to be just like the Instagram teachers I saw on social media. Their classrooms are perfect, their anchor charts are pieces of artwork. It took me a while to figure out that I am not a Pinterest teacher - and that is an ok thing! The faculty at CU helped me to realize that I am an excellent teacher because I make incredible relationships with my students. I don't need to compare myself or my teaching to other teachers out there, I just need to bring my own style everyday. I need to spread my compassion and joy for these students and advocate for all students - especially the ones who need it the most. I try to be authentic in the classroom everyday showing students to celebrate and embrace their own identity as people and learners. 
What is your best piece of advice for incoming students?
I think kids deserve a teacher who works everyday to provide students with an educational sanctuary – an environment in which they feel safe and supported to take educational risks to grow intellectually and socially. Teachers must keep student's physical, emotional, and developmental wellbeing in their hearts and minds. In the end, we want our students to be good people - to be kind, creative, and compassionate about the things and people they love. This all starts with a teacher who can give them the space to try things out, learn, grow, and support them when they fail. Strive to be the teacher you needed when you were a kid.
What does graduating from graduate school represent for you?
Graduating from the University of Colorado Boulder is an extremely proud moment for me as both a student and a teacher. I struggled for years to learn how to be a student (which is a great lesson for my students as well). My path to this moment was not a direct one. Today, I celebrate with my fellow graduates, but as a teacher, I recognize that I am also a lifelong learner. Although I graduate this year, I feel that my education will never be over.  I will be back to continue to learn how I can support my students and help them achieve success in the classroom and in their futures.  
What continues to drive your passion for your work after graduation?
The Kids! Teaching is the hardest job I have ever had, but the kids bring me the most joy. Their creativity, humor, and excitement for learning gives me hope. I can't wait to get back into the classroom each year and teach my heart out.